Does the ordinary work have eternal significance? Do the products and achievements of industry, art, music, education, medicine and (pretty much everything else we could think of) carry on into the new creation (Eschaton)?
This is the question Darrell Cosden addresses in The Heavenly Good of Earthly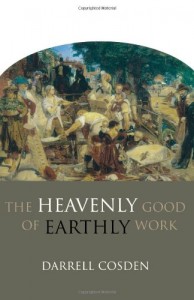 Work (Hendrickson, 2006) and, in a more detailed, deeper way, in A Theology of Work: Work and the New Creation (Wipf and Stock / Paternoster, 2004).
In these works, Cosden tackles a problem common to contemporary Christian life: a dichotomizing of the sacred and the secular spheres, and a lack of real appreciation for "ordinary" work (by which is meant work that is not explicitly tied to the functions of the institutional church and to missionary or evangelistic enterprise). Cosden notes that pastors commonly try to impress upon their parishioners that their everyday work as lawyers, teachers, accountants, factory workers, and so on, is significant–but the message comes through (often through practices rather than words) that "secular" work is only instrumental as serving the higher functions of the institutional church, evangelism, and missions.
Cosden rightly understands that the best way to counter this problem is through developing a theology of work. Further, he recognizes that the best way to develop a theology of work is through reflection on eschatology.  He therefore presses into the question of continuity/discontinuity, with respect to what will (possibly) 'carry over' into the new heaven and new earth, when Jesus returns to make all things new. Cosden clearly sides with the continuity end of the spectrum, pointing to the resurrection of Jesus (the 'first-fruits') as our ultimate paradigm for understanding that at the general resurrection all things will be taken up into God, will be properly ordered, and yet will retain a dimension of recognizability. The work we do now "in the Lord" awaits its culmination at the Eschaton but has lasting, eternal significance in God's economy.
These two books are excellent contributions to this growing discussion of the meaning of our work and yet, with any book that tackles tough questions, raise a number of questions and points of debate. In future posts, I will point out a few of these and hopefully generate some further discussion about them here.