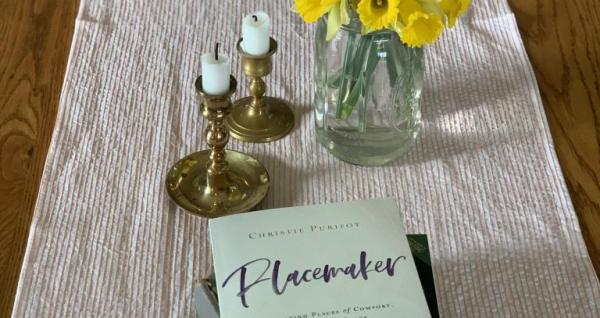 For too many years in a row, I've tried to observe Lent my own way.
Giving up chocolate or sugar or my cell phone always seemed so paltry in comparison with a world's weight of sin and suffering. And so I've gone my own way.
One year, instead of giving up something, I added fixed-hour prayer. Instead of reading only the morning prayers in my much-loved copy of The Divine Hours: Prayers for Springtime, I set an alarm on my phone and prayed the noon and evening prayers as well.
That was a good thing to do. But it was very much more.
And every year, without fail, I add some new devotional reading or practice to our family-dinner hour. Also, a good idea (though with predictably varied results). But also, very much more.
*
This year, I'm finally leaning in to the ancient wisdom of the season.
I'm no longer trying so hard to wrest is into my definition of meaningful. I'm no longer imposing my own pre-conceived ideas about what will or will not be spiritually beneficial.
Lent has traditionally been a season for living with less. And this year, I'm seeing what happens if I simply lean in to that.
Because I know by now that my own response to the ups and downs of life will always be a move toward more.
It's an understandable response. When I'm hungry, I choose more (food). When I'm hurting, I choose more (comforts). When I'm asking questions I chose more (books / expert opinions). When I'm sad or bored, I choose more (distraction).
Perhaps you do, too?
Lent, then, is an invitation to choose the not-so-natural response. Lent is that rare chance in our prosperous communities to sit with our hunger or our discomfort or our regret.
I won't share here exactly what it is I've given up. Suffice to say, it's predictable. But I don't need to name it because it isn't the thing itself that matters.
It's the less it leaves behind.
*
In some seasons, less is a choice we make. In others, less is all that's offered us. But perhaps we always have the choice to fight the emptiness or to receive it? Perhaps even less has gifts to give?
I'd love to hear: are you adding or subtracting in these weeks before Easter?