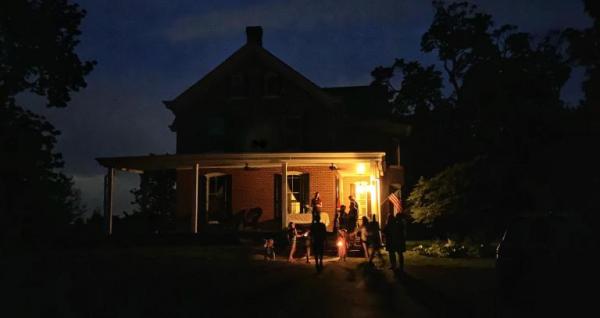 Toward the end of our Memorial Day gathering, I walked with a few friends down the long length of our driveway.
We used our cellphones as flashlights, but when the little child in our midst pointed out the very first firefly of the season, we turned off our phones. At first we paused, the way forward lost in total darkness, but soon more fireflies, the neighbor's sporadic fireworks, and the glow of a thunderstorm on the horizon softened the edges of the night.
We walked on.
*
Our destination was the red oak tree we planted two-and-a-half years ago. When we planted it that fall, it was about six feet tall. Maybe a little less. I suppose it was almost exactly the height of the man we had lost the previous January in a military helicopter crash off the coast of Oahu.
I wanted his children to have a living, growing reminder of their Dad here at a house that is a second home to them. I wanted my nieces and my nephews–and everyone who had loved this loving man–to watch grief grow into something beautiful.
As I write in my recent book Placemaker:
Loss is painful, sometimes catastrophic, but like some terrible, black soil, it also has the potential to bear exquisite fruit. Childhood memories grow roses. Adult sorrows grow oak trees. Something or someone precious crashes through the canopy of the forest, and there is death. But, then. Then! There is an upsurge of life. What happens next? That is the hope-filled question I am learning to ask. What astonishingly beautiful thing happens next?
And as my widowed sister testifies so well
, so many beautiful things have happened that we find it easier every day to believe they will go on happening.
*
But we must tend the soil.
If this red oak tree is to flourish, I need to clear the weeds at its base, keep a wire cage around its young trunk to protect from curious deer, and bring water during times of drought. This fall, I will lay down a blanket of well-rotted mushroom compost.
We must also tend our memories.
Of course, it is so much easier to forget. It is so much easier to stop telling the stories, the ones that make us cry but even the ones that make us laugh.
There is a double-edge to the fact that we lost this good and kind man because of military service. Memorial Day is added to the litany of other hard days (birthday, anniversary, Father's Day). Yet one more day for disciplined, active remembering is also a gift. It is, I suppose, a severe mercy, a good blessing that is, like so many blessings, also hard to receive.
Memory is a burden and memory is a blessing, and how glad I am that we planted a portion of our burden in the ground.
Our tree is now twenty feet tall. A burden grown into shade and shelter.
A burden grown beautiful.