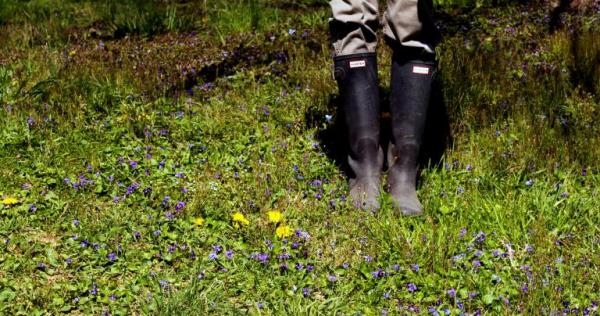 I am writing this from the front porch at Maplehurst.
I am writing this from the middle of a construction zone.
For the past week, a landscape crew has been hard at work with backhoes and shovels, and the result of all that effort is what appears to be a whole lot of nothing.
Quite literally: nothing.
Where the hydrangeas grew, where grass grew, where my very favorite tree, a Carolina Silverbell, grew, where the peonies grew, where the children played, there is only bare, brown dirt. Look closely, however, and you can see a network of lines spray-painted in vivid orange.
That is where the new paths, the new plants, and a new gravel terrace will grow.
*
We've been planning this project for a long time. If you count all the months we spent trying to decide whether or not to tackle it ourselves, we've been planning it for even longer.
But one of the first things that happened when we brought on professional help was our realization that in order to build the things this place needed, we would have to tear out so much more than we imagined.
We couldn't build well without also clearing well.
*
Fortunately, it isn't all loss.
We transplanted the peonies. We even moved the Silverbell (though will it survive the move? I pray for this tree while I water it). But now that we've paused the labor for the long Labor Day weekend, I am forced to reckon with what we have done.
Only the pecking chickens are happy about all of this exposed dirt.
And though I have faith in the process and faith in the plan, beauty takes time to root itself and grow. We'll walk on new paths in a matter of weeks, but new plants and new trees will wait for spring.
*
The metaphors for Christian life are (painfully) obvious. We all know the value of a very deep pruning.
But what I see when I stare at this dirt is something that touches me more deeply than my familiarity with the metaphors has previously allowed.
Pruning sounds nice. Tearing out makes sense in theory. But living in the middle of the emptiness? Receiving the destruction with open, grateful arms?
*
Lord, have mercy: we long for your glory to dwell in our midst. We want our lives to be a fertile field. But we are weak. We love comfort. Be tender with us. May your rod and your staff be our comfort, whether we lie down in green pastures or walk through shadowed valleys.