Spiritual Literacy: Reading the Sacred in Everyday Life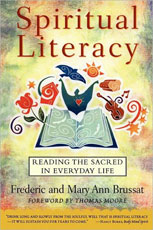 by Frederic and Mary Ann Brussat
An unprecedented collection of 650 brief "aha!" readings about daily life from spiritual teachers, essayists, novelists, filmmakers, poets, naturalists, and social activists. They show us how we can read the texts of our lives and of the world around us for sacred meaning, offering spiritual perspectives on things, places, nature, animals, leisure activities, creative pursuits, work, body, illness, death, relationships, and community. The Brussats add demonstrations of spiritual literacy from their own experiences and their interpretations of movies, songs, and tv shows. A book that Oprah said she kept on her bedside table, it has become an invaluable resources for preachers, teachers, and seekers of all types.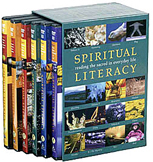 In this exquisite 6 DVD series, award-winning filmmaker David Cherniack has married inspiring passages from Frederic and Mary Ann Brussat's bestselling book to sense-luscious visuals and emotionally vibrant music to create 26 meditative and soul-stirring half-hour films. Here is a wedding of spirituality and imagination sure to guide, challenge, comfort, and encourage you on your journey. This innovative series is organized around a new alphabet of 26 spiritual qualities of mind and heart for practicing spirituality in everyday life.
Spiritual Rx: Prescriptions for Living a Meaningful life
by Frederic and Mary Ann Brussat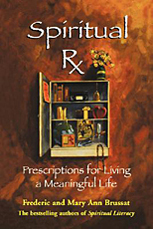 The Alphabet of Spiritual Literacy – 37 practices from Attention to Zeal – are prescriptions for those desiring to live a richer, fuller, and deeper life. In this practical book, Frederic and Mary Ann Brussat explain the best ways to explore each practice. They recommend teachers, books, audios, films, music, spiritual exercises, small group and family projects, journal prompts, imagery exercises, discussion questions, and more. With its practical emphasis upon personal and societal transformation, its multifaith perspective, and its encyclopedia array of more than 500 resoruces, this is an invaluable guide to the diverse riches of the path of practice.
100 Ways to Keep Your Soul Alive
by Frederic and Mary Ann Brussat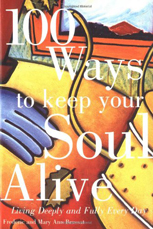 This delightful little book is truly a care package for the soul. One hundred concise quotes from ancient and contemporary writers cover ways to heal and feed your spirit. Each is followed by a simple practice for applying its wisdom to your daily life. A great gift, this paperback proves that keeping your soul alive is an adventure, a delightful challenge, a rousing responsibility, and an essential spiritual practice.
100 More Ways to Keep Your Soul Alive
by Frederic and Mary Ann Brussat
This paperback gift book contains a spirited new collection of practical wisdom from the authors of the acclaimed 100 Ways to Keep Your Soul Alive. A splendid companion volume, it continues the tradition with 100 more thoughts and ideas for keeping the soul nourished, engaged, and present in everyday life.