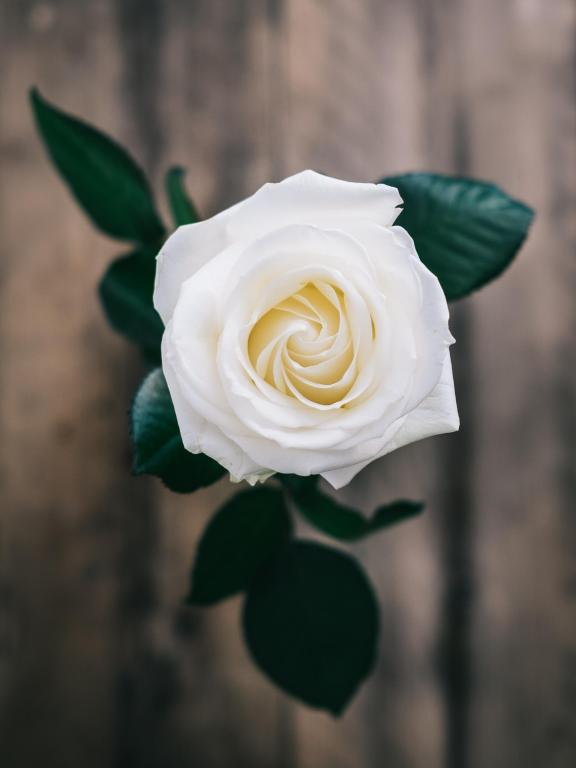 I understand why so many rushed to condemn Flora Gill after her infamous deleted tweet. How dare anyone suggest porn be available for children!? But I have to ask…isn't it already?
"Someone needs to create porn for children. Hear me out. Young teens are already watching porn but they're finding hard-core, aggressive videos that give a terrible view of sex. They need entry-level porn! A soft-core site where everyone asks for consent and no one gets choked etc."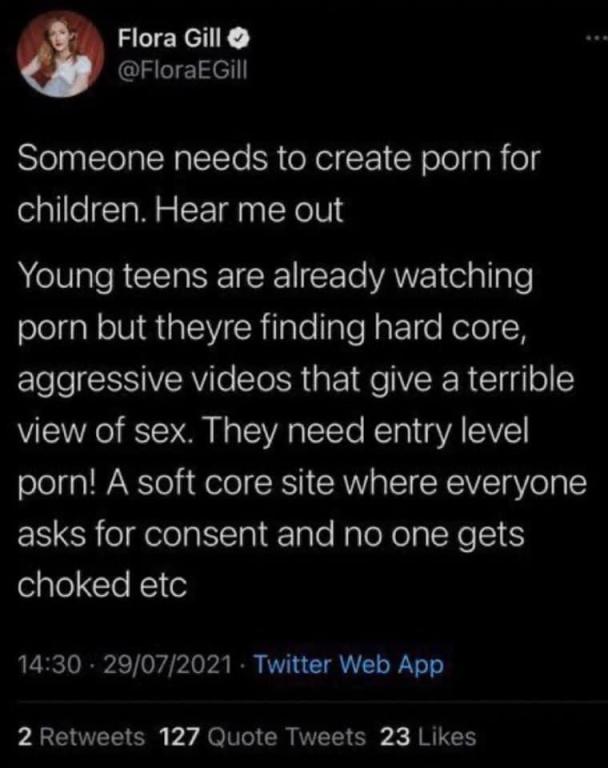 Natural reactivity dynamics of the Twitterverse ensued, obviously, and the commentary focuses on two simple words: "Children" and "porn." And I get that juxtaposing those 2 words together is bound to generate activation, but are we so semantic sensitive that the deeper message cannot be understood?
What was Gill trying to convey?
She stated a fact. "Young teens are already watching porn." Don't we know this to be true? In a society that cares so intensely about facts, this is one fact that we ought not to try to deflect from. Another fact she stated was obvious to anyone who has viewed porn— "they're finding hard-core, aggressive videos that give a terrible view of sex." Who can deny this to be true? Porn is getting more and more disturbing and grotesque. And porn is absent of both emotion and eroticism.
So here we are getting facts tangled up with feelings and the consequence is nothing more than a visceral, viral reaction. It was the idea that "children" ought to have access to "porn" that lingers in the reactive minds of those unwilling to think critically about the topic at hand. I said what I said. Your reactions and your condemnation of Flora Gill won't stop your child from viewing porn.
The idea I see offered is this. Rather than holding onto some fallacy that our children won't view porn, what if a sector of society created an industry that was more focused on educating and informing rather than entertaining and stimulating? What if it wasn't porn at all? What if we take that dirty little word out of the context to reduce semantic sensitivities?
What Gill was suggesting is what many others have been discussing for years. An idea that we could offer our aging children something more than what's currently available. Our schools are not teaching our children about sex. The churches are worse yet. Teens need something to teach them and satisfy their curiosity. Children want to know about sex- that word all their parents say in whispers and hushes.
I remember when I was younger, I stumbled across some VHS set hidden away behind the VCR. I popped in the tape. It was an ultra-boring instructional video series designed for married couples. White background, white bed, white sheets. Accompanied by two hairy, unkept models, a man and a woman. Yeah, they had sex in the video, but it wasn't anything exciting. There was commentary. It was a guided practice for how to initiate love-making. There was eye contact, caressing, spooning, kissing, massaging, more kissing, and eventually, there was penetration. But only after communication. I think I was around 12 when I found this. And to be honest, it really helped created an ideal about sex that I still appreciate today.
That was accidental, obviously. No one went out of their way to show me this video. And I can admit this authentically, that even the very idea of me clicking on an app and playing a movie for my children once they are 16 or 17, to show them what sex looks like, is really scary and uncomfortable. But then I have to ask myself, "How do I want my children to discover the beautiful gift of sex?"
In 2017, at the Variety Power of Women Luncheon, Blake Lively was acknowledged and awarded for her collaborative efforts in combatting the sex-trafficking industry. During her acceptance speech, she made a powerful statement about the dangers of pornography that really shifted my own view of porn. She shared the horror stories of what she discovered was taking place tens of millions of times a day—file transfers of child pornography, including the most degrading and dehumanizing requests of infants with umbilical cords attached.
That is N-O-T how I want my children to discover the gift of sex. The front page of Porn Hub? That is not even remotely close to the depiction of the spiritual connection one engages in when intertwined in a lover's dance. And while I appreciate Cardi B.'s powerful W.A.P. presentation for adults, her music isn't for children, and I don't expect it to be a teaching model for sex.
If I could choose for my children, I would want them to be introduced to the gift of sex in the most loving and tender way possible. It would be more like the VHS series I viewed as a child (more than once, I might add, and I took notes in my diary). It would include diverse cultural injections of human sexuality and spirituality from all over the globe. It would include commentary about what is taking place and what emotions and sensations one could be experiencing at the moment. It would include touch therapy. I want my children to have an exquisite menu of options to choose from to satisfy their hungry little curiosities. Sex is a big, beautiful topic. And how one is introduced to sexuality leaves a big imprint.
But again, I understand the fear components that influence us all to close up around the topic and just censor the shit out of our children's devices. Sex can be exploited and manipulated and spoiled so quickly. Our children can be used for someone else's lustful gains in a moment's flash. That fear is real because we have all heard stories from family members and friends, we may have even experienced sexual trauma in our own lives and still suffer from those initial impressions of sex.
So maybe you don't want your children to be instructed by some system of authoritative instructors. You want to decide as a parent what information your child has about sex, and at what age. Me too. But that means we must actually share it with our children. We can't run away from the topic. And we can't just sit around and wait to be asked, either. We must share the information we have about sex with our children, or someone else will.
The information I have about sex I must learn to filter and translate for my children. And to an extent, I am trying to filter and translate Flora Gill's tweet. What she stated resonates with me, and many other mothers in particular, that I shared in discussions with. Gill put to words ideas we have been quietly discussing for years but were too afraid to say anything about it. Gill was labeled a "groomer", a "pedophile", and a "pedo-supporter" all for daring to ask for something more suitable for our aging and sexually active teens.
The truth is that we do need a different way to inform our teens about sex. We are in a technologically advancing world, aren't we? If we can send a big dildo into space, we ought to be able to talk to our children about what a dildo is. We should be pausing to reflect on ways we can filter and translate information to our teens in a way that introduces them to sex in a conscious, erotic, and emotionally intellectual manner. My hope is that once the semantic sensitivities subside, we can have that conversation.