This past week, I moderated a conversation between Oscar-winner Jeff Bridges and Zen Peacemakers founder Bernie Glassman, authors of the brand new book The Dude and the Zen Master, for the Library Foundation of Los Angeles (one of the best causes around). A post about that event is forthcoming, but I've already received lots of notes from people who attended and/or saw the pictures of it online. Above all else, they're wondering about what all of the things are on my wrists — or, as one person put it, "What's all that bling?"
Yes, I have quite a few little knickknacks adorning my wrists. Since answering the question will allow me to talk about some other extraordinarily good causes, I'm happy to explain what all the little bits are. Below are pictures with numbers next to each item. Look at the list below the pictures, and the corresponding number will explain the item. (P.S. I'm not a compensated endorser of any of these groups — I just feel like touting them.)
Thanks for your interest, and tell us about causes you support in the comments!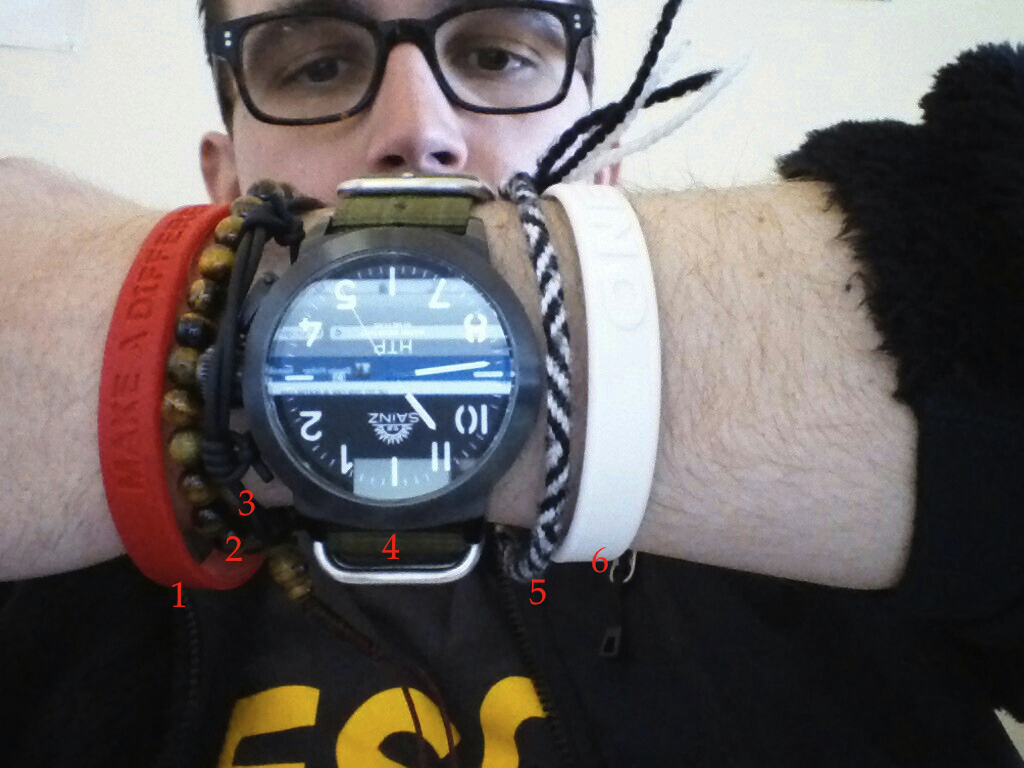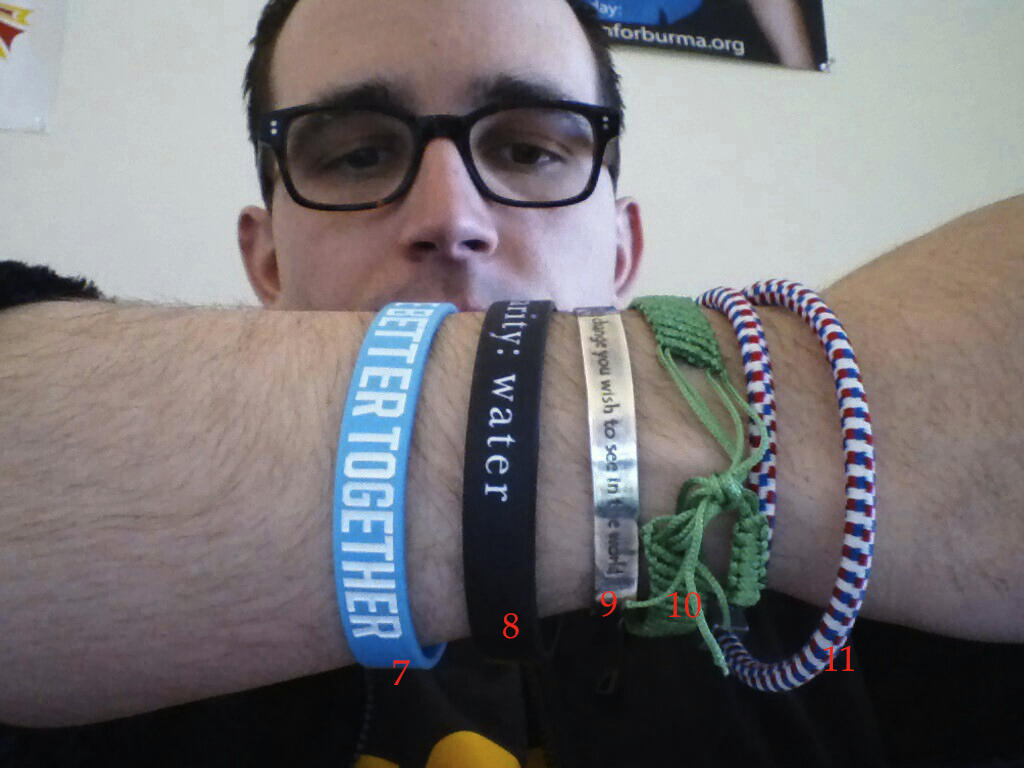 This bracelet benefits/raises awareness for Broadway Cares/Equity Fights AIDS — a magnificent and mighty theater industry-based AIDS organization. My folks are big supporters of them, and so both my sister and I have become supporters as well.
This wrist mala was made by beneficiaries of the Tibetan Nuns Project, and furthers the work of that organization to "[educate] and [support] nuns in India from all Tibetan Buddhist lineages." The TNP is one of the charities I've supported the longest.
This rubber bracelet meant to look like barbed wire benefits/raises awareness of Amnesty International (whose logo is a candle surrounded by barbed wire). My membership with/support of Amnesty has been the longest single commitment of my life.

My watch is one of the watches in the collection sold by the Human Time Project, an awesome new watch company that sells you one watch and gives another to a healthcare worker serving in a rural clinic in the developing world. They're tough as nails, built to last, kinda sexy, and hugely beneficial. Love it!
This is a "freedom bracelet," also benefitting the TNP.
This bracelet benefits/raises awareness of the ONE Campaign, the wonderful nonpartisan organization calling for increased funding by the U.S. government to fight extreme poverty and preventable disease globally.
This bracelet raises awareness for the "We Are Better Together" campaign of the Interfaith Youth Core. I received this when one of the IFYC's representatives visited our Buddhist Chaplaincy Department at University of the West. You can find out more about the campaign here.

This bracelet benefits/raises awareness for charity: water, which works to bring clean drinking world to people in developing nations.
This bracelet — with the Gandhi quote, "Be the change you wish to see in the world" — was given to me by my parents when I graduated from Naropa University with my Master of Divinity degree.
This bracelet was made by beneficiaries of the Somaly Mam Foundation, a Cambodia-based NGO "dedicated to the eradication of slavery and the empowerment of its survivors, based on the vision and life's work of Cambodian survivor Somaly Mam." Somaly Mam is profiled in the book and the film Half the Sky.

This bracelet, sold at Starbucks, benefits and raises awareness for the Opportunity Finance Network, which seeks to help create and sustain jobs in the U.S. I got it for free on election day since I could show evidence that I voted.
(In addition, my glasses, which you can see in the pictures, are by Eco — a great glasses company that makes their products from 95% recycled materials.)