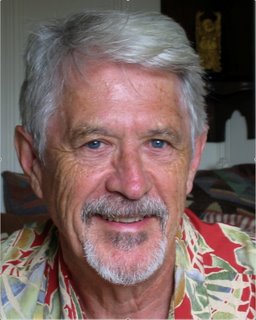 Peter Clothier is an internationally-known novelist, art critic, and blogger. A student of Theravada Buddhism and well-known Buddhist blogger (at The Buddha Diaries), Peter's work is characterized by his hopes to "use his online platforms to integrate compassion, non-attachment, and political engagement into our contemporary discourse, even as he gradually integrates those same qualities into his own life."
Peter is also a published author, whose books include While I Am Not Afraid: Secrets of a Man's Heart, Persist: In Praise of the Creative Spirit in a World Gone Mad with Commerce, and Mind Work: Shedding Delusions on the Path to the Creative Core. His latest is Slow Looking: The Art of Looking at Art, which "describes and elaborates on the author's 'One Hour/One Painting' sessions, an idea he developed to practice a different, more profound and more rewarding way of looking at art.  It combines the practices of meditation and contemplation, asking participants to sit for a full hour in front of a single work of art."
In addition to his personal blog and the books, Peter blogs for The Huffington Post and hosts the monthly podcast The Art of Outrage for ArtScene Visual Radio here in Southern California.
Peter and I met at the first Buddhist Geeks Conference, which was held at my home institution University of the West. We've been in touch since then, and he's sent me copies of his books as well. I reached out recently about an interview via email and he graciously agreed. On behalf of our readers: thank you, Peter!
*     *     *
Please tell us about "Slow Looking" and the art of looking at art.
Slow Looking: The Art of Looking at Art is the story of the "One Hour/One Painting" sessions I have been offering at museums and galleries for more than fifteen years.  The idea originated not long after I had discovered meditation as a practice that could help me to slow down and start paying attention in all aspects of my life.  Even with a long-established reputation as an art critic for national magazines, I would often catch myself spending more time with the wall label in a museum than with the painting I was supposed to be looking at!  This led to the notion that if I could sit for an hour in meditation, I could certainly combine that with the act of contemplation: "One Hour/One Painting" was born!
It proved to be a remarkably successful way not only to instruct people in "the art of looking at art"–a wonderfully gratifying benefit in itself–but also in bringing participants to the realization of how much they stood to gain in paying the same kind of attention to everything else in life, whether cooking and doing the dishes, driving on the freeway, or gazing into a beautiful night sky.
"Slow Looking" borrows its title, of course, from the fashionable "slow cooking" phenomenon.  As the New York Times art writer Michael Kimmelman wrote, "Slow looking, like slow cooking, might yet become the radical chic."  Devoutly to be wished for!
Your podcast "The Art of Outrage" starts with the idea that "artists have always been engaged, and sometimes enraged citizens, and politics and society are as much apt subjects for creative attack as anything." Since this is a blog about Buddhism and social justice, can you say a bit more about this?
Yes, indeed.  Most of the artists I know are people of acute sensitivity and special intelligence.  They look at the world around them and see the beauty in it, of course–and some of them choose to reflect that in the work they do.  Others, though, also see the injustice and the suffering, the military conflicts and the deprivation, and respond to these things with the sense that they have to "do something."  They do what they know best: they make art.
The heart of Buddhism, as I see it and try to put it into practice, is compassion.  For these artists, their work is a practical expression of the compassion they feel in their hearts for brothers and sisters throughout the world who are less fortunate than themselves.  As one who writes rather often about art and artists, I find myself particularly responsive to those who share my own sense of social responsibility–who are as outraged as I am sometimes–often!–by the hypocrisy and polemics of politicians who should have the interests of the poor and the underprivileged as much at heart as those of the rich and influential.
At the first Buddhist Geeks conference, you and I were in an interesting discussion group about Buddhist blogs and blogging. With social media changing so fast, and more and more platforms appearing all the time, what's your take on Buddhist blogs now and their future?
I'm not sure that the label in itself is a particularly useful one.  My own blog, The Buddha Diaries, does not preach Buddhism, nor indeed am I the least bit qualified to do so!  I try to come at everything I write about from a place of compassion, and use my writing as a place to learn, for myself, more about the meaning of the dharma from the practical experience of life.  Thus, I write about everything, from art to books and movies, from those familiar spats with loved ones to walking in the park with George, the dog, and try to get to the essence of the experience through the writing of it.  I'm a proponent of that great old adage: how do I know what I think 'till I see what I say.
That said, I obviously tend to enjoy reading blogs that take a similar approach, and shy away from those that seem more interested in the theory of the dharma than its practice.  As a child growing up, the son of an Anglican priest sent to schools that adhered to the Anglican faith, I was subjected to quite a heavy dose of dogma, which may explain my current aversion to it.  (Oops, there I go: aversion!)  So far as the future is concerned, I'm all for expansion, liberation, exploration.  Just as the universe continually expands, why not the Buddhist blogosphere?  What harm could there be in that?
What are you working on next?
My intention is to schedule more "One Hour/One Painting" sessions in the coming months.  I find that these afford me the best opportunity to "teach" in a very practical, spontaneous way.  I'm also hoping to expand my base for talks based on my previous publication, Persist: In Praise of the Creative Spirit in a World Gone Mad with Commerce.  It's a pet peeve of mine that we live in a culture dominated by money and celebrity, and I think persistence is the most important tool for those of us in the creative life who are unlikely to achieve either.  I will also be continuing to write, as I do almost every day, in The Buddha Diaries, and continue to post at other sites.  And I'll be waiting patiently for the next idea for a book to present itself and take shape.  I do love books.  And I have to say that I love the physical rather than the virtual kind.