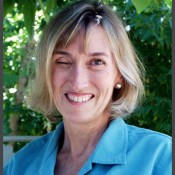 Deborah Bowman, Ph.D., is a psychologist, photographer, and author. She is also a professor at my alma mater Naropa University, where she founded the Transpersonal Counseling Psychology and Wilderness Therapy programs. In addition, she is part of the senior teaching faculty with the Boulder Psychotherapy Institute, and a licensed clinical psychologist and certified Gestalt therapist with over 25 years experience.
Her new book is The Female Buddha, which is described this way:
Within all of us is a Buddha, the awakened heart and mind.  Obscured by our conditioning, we fail to recognize her.  Central to conventional thinking is gender identity and the engrained, sexist ideas we place upon men and women…

Drawing on Guanyin, the central female deity of East Asian Buddhism, photographer and writer, Deborah Bowman, brings us inspirational images to contemplate.  Paired with the wise words of 54 women teachers from the time of the Buddha to present day, this book is a celebration of beauty and truth.
Deborah, whom I know a bit from Naropa, was kind enough to send me a copy of the book — which I absolutely adore — and was gracious enough to agree to an interview. On behalf of readers, thank you, Deborah!
*
You say The Female Buddha is here to "shake up habituated notions and inspire possibilities." How so? In addition, how does the particular form of the book — the pairing of words and photographs — help you do that?
We are so use to seeing a male figure representing Buddhism…how habituated is this? I wanted a book where every image is female and a woman teacher is the author every quote. When I see a female Buddha, the possibility of enlightenment is one step closer. Look what Virginia Slims did for advancing women's cancer rates! Role models make a difference.
The history of women's transmission of Buddhist teachings began 2500 years ago when Mahaprajapati insisted on women's right to walk the path of freedom. She was literally one of the "mothers of the Buddha." The songs of the women she represented are a testament to the Buddhahood these women achieved. When I paired several of these verses with modern images in the book, I felt I was illustrating a long lineage of women's liberation!
The allegiance to one particular school of Buddhism may contribute significantly to a depth of learning yet can also become neurotic and rigid. Due to their small numbers and history of prejudice, modern monastic women working for greater respect and support have found success crossing cultural and sectarian boundaries. Their inspiration offered me a ground for the artistic process of intuitively mixing images and metaphors and paying less attention to matching the teacher's lineage to a particular image. My hope is that the ecumenical approach of the book inspires others as well.
Connected with the last question, you write, "Capturing the subtle artistic rendering of an ancient statue in a photograph is a mindfulness practice." Would you explain further?
Some photos take hours of waiting for the light to be just right, other photographs demand you are "on" in the instant yet spacious enough in your mind to make decisions about light settings and background noise. The greatest struggle in my "photography practice" is a common one, balancing the emotional spectrum of excitement and boredom. When I'm too excited by an exceptional display of color or facial expression, I forget to check the aperture or notice what is in the background. When I assume a subject is boring, I miss opportunities to find an interesting angle or fail to wait for someone to walk into the scene. Curiosity and playfulness go out the door.
Late one afternoon the light was perfect as I worked to capture a shot of an unusual Kannon figure outside a temple in Kyoto. A large group of women broke the stillness gathering around the statue as I watched the sun begin to slip behind the temple. Disappointment began to permeate my mind as I watched them line up and take turns approaching the figure of compassion. After a few approached the statue, I awoke from my stupor. This was the moment! I had two or three minutes of precious light to capture one of them touching the heart of Avalokitesvara. Lucky, lucky me: I almost missed a lively shot when I assumed they interrupted "my perfect" photograph.
Watching ones mind run the emotional gamut of attachment, getting stuck and unstuck, is a profound practice for any occupation and a humbling one for an artist obsessed with a spiritual icon of clarity and compassion.
Would you say something about Guan Yin as an inspiration for The Female Buddha? 
In 2006, I read about temples in Vietnam dedicated to Quan Am (Guanyin) in the
New York Times
travel section and knew I had to photograph her. We found Guanyin as the central figure on the altar in one of the many temples of Cholon, the Chinese district of Ho Chi Minh City. Later we found her in the caves of Marble Mountain, sitting as solid and substantial as any Buddha sculpted across time or space.
When we asked directions to Quan Am temples, most everyone referred to her as the female Buddha. In the states, the Vietnamese-American woman doing my nails called her "the lady Buddha." On Hainan Island, in the South China Sea, there is a statue of her that is 253 feet tall, the fourth tallest statue in the world. Colossal images of her are arising throughout China, Vietnam and Japan. These are historical firsts.
The Lotus Sutra describes Guanyins enlightenment. The people of Vietnam call her a Buddha. Her compassion is based in the wisdom she gained from her understanding of the entire Buddhist canon. How could she not be an inspiration? Of course, this is true of Tara as well. The texts directly refer to Tara as a Buddha. It is just hard to find the diversity and proliferation of Tara statues in a form so relatable. Moreover, I landed in the lap of Guanyin the first time I went looking for her.
You write prophetically in the book that "it is time for all of us to stop scraping and bowing before doctrines and aspects of any tradition that denies our inherent greatness. Women in particular must work to overcome thousands of years of patriarchal thinking that limit our potential. Men must strive equally hard to see through their history of privilege in the religious sphere." What might that look like practically-speaking? What kind of action might you suggest to Buddhist men and women so that we might move past the oppression of women in Buddhist communities that continues to this day?
"You've come a long way baby, " the Virginia Slims advertisement suggests, yet we are still subject to subtle discrimination in every sphere of our lives. Hurting men and women alike, religious prejudice is particularly pernicious as it is presents itself as the ultimate authority.
The more subtle the evidence, the more we tend to minimize our blind spots, or ignore them. Those in leadership roles need to make extra efforts to read and quote from both women and men teachers. I'm hoping The Female Buddha is a resource, not only for its quotes but for the many women's writings that are cited.
Our personal stories make a difference in healing and moving on from a long history of ignorance and separation. We need to share our pain, our potential and our realizations, without judgment or drama. If we have judgment and drama, we need to forgive one another and ourselves.
I would like to see more women and men pairing up to teach and to do service. Many schools of Buddhism are long on attaining knowledge and short on doing anything with it. A few slant the other direction, all giving but not too clear on where it comes from. Guanyin offers an example of balance, always coming from wisdom, endlessly giving from an overflowing cup.
In doing the work of creating The Female Buddha, what did you learn that you wouldn't have learned without putting together the book? In other words, what's something surprising or new that this creation process showed or taught you?
I have been humbled repeatedly, by the vastness of truth that so many women have touched and have been willing to articulate. I have learned that a small body of work, such as gathered in my book, can continue to teach and deepen perception over time. I was afraid the images and words would grow stale, but they have startled me with unfolding beauty and truth.
Formal poetry encompasses a small percent of the verses I quote yet has gained an enormous appreciation in my heart to relay the essence of the teachings. I chose lines that were universal in nature yet ones within grasp of someone unfamiliar with the language or peculiarities of Buddhism.
In preparing a workshop on The Female Buddha, I marveled at how many of the verses of prose by both ancient and modern women overflowed with poetic genius. I intuitively chose them yet have grown more cognizant of their rhythm and sheer luminosity. I read a final verse to the group by Punna, a nun at the time of the Buddha. She spoke to "tear open the massive dark." With exhilaration, I found myself crying out her words as a dare to the individuals in the room. Every person was ripe for Punna's challenge and met her words with dignity and élan. As never before, I felt the depth of Punna's call to action penetrate by being. This is the power of the teachings that I continue to receive.
*
For those of you lucky enough to be in Boulder, CO, at 7:30 on Wednesday, April 24th, Deborah will be presenting a free talk, slide presentation and book signing at the Boulder Bookstore.