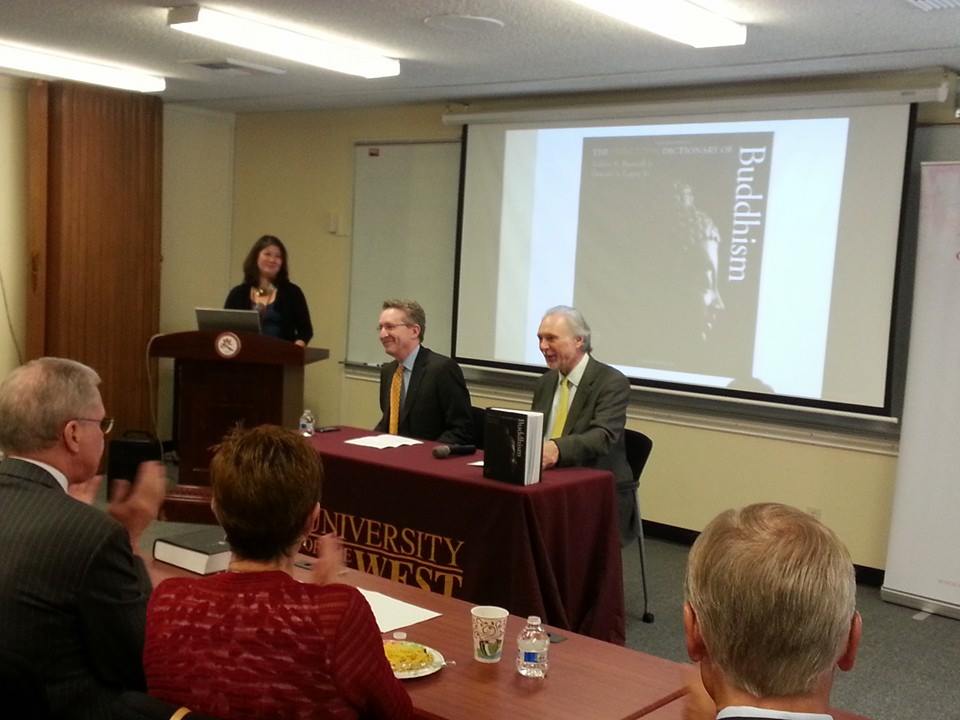 Drs. Donald S. Lopez, Jr., and Robert E. Buswell, Jr., co-authors of the recently published Princeton Dictionary of Buddhism, visited my home institution University of the West this week to present the volume and discuss its composition. In addition, they also shared their "10 Misconceptions About Buddhism". Luckily, UWest's wonderful Coordinator of Extended Studies Glenn Dunki-Jacobs, was on-hand, and he captured the whole event on video for you. You can watch below, at the end of this post.
I recently included the dictionary on my list of favorite dharma books of 2013. With 5,000 entries totaling over a million words, it is "the first such volume to cover terms from all canonical Buddhist languages and traditions," as well as "selected terms and names in Thai, Burmese, Vietnamese, Lao, Khmer, Sinhalese, Newar, and Mongolian." Suffice it to say that it is an impressive and important addition to the field.
This is not to say that it's immune from criticism: the book has been much discussed in a Facebook group for Buddhist Studies scholars and in the comments of Facebook posts of mine and others, and I'm compelled by at least a couple of arguments that have been presented by fellow Buddhologists.
First, that the book excludes many modern teachers and thinkers of significant influence globally (including Thailand's engaged Buddhist titan Sulak Sivaraksa and UWest founder / Fo Guang Shan leader Grand Master Hsing Yun), while including others whose impact has probably been greater in the West and comparatively less so internationally (Chögyam Trungpa Rinpoche and Shunryu Suzuki Roshi, for example). At the UWest event, Drs. Buswell and Lopez explained their choices here by noting that (i) the book was written in English and primarily meant to serve students and others working in the Western world, and (ii) they chose to exclude (with some exceptions) the living, whose full effects on history are not totally clear yet. These rationales still don't quite explain some of the inclusions and exclusions of living persons, however. I have to ask, for instance: Does the still-living Gary Snyder (as marvelous and important as he is) really necessitate a whole entry in this volume? And do Western students and others really not need to know anything at all about, say, the also very-much-alive Tzu Chi Foundation's Master Cheng Yen, who gets not a single word of mention in the book?
Second, that despite all of the excellent input from scholars across a range of expertise (including my UWest colleague Dr. William Chu), they appear not to have included any specialists in Indian Buddhism. The area often gets short shrift in the field, so I guess I shouldn't be surprised, but still…
All of that said, I don't want to pick at the dictionary too much. It was a Herculean effort, and one that brings us a step closer to doing better and more thoughtful work of this sort. It shouldn't necessarily be considered the pinnacle of Buddhist dictionaries, but neither should it go unheralded for going where previous works have failed to go. This is a very important resource as it stands, and until something better comes along, it's going to be the best example of an attempt at an all-inclusive dictionary that we've got. Thank you, gentlemen.