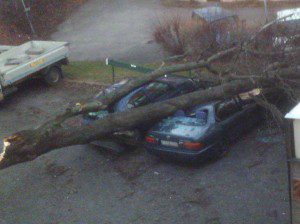 Compare Matthew 6:19-21
The simple fact is that material possessions wear out and become obsolete.  Houses burn down.  Things get broken, are stolen and lost.  The pleasures associated with them fade.  They become "old hat."
Seeking lasting satisfaction in a new car or a new HD-TV or a new house or a new dress or a new cell phone is a quest that's bound to fail.
We all know this.  But we forget it.  Constantly.
I'll be happy when I get that promotion.  When I own that car.  When I move into that house.  When I have that boat.
We're slow learners.
"Our hearts are restless," wrote St. Augustine at the beginning of his Confessions, addressing God, "until they rest in Thee."
Posted from Santa Fe, New Mexico