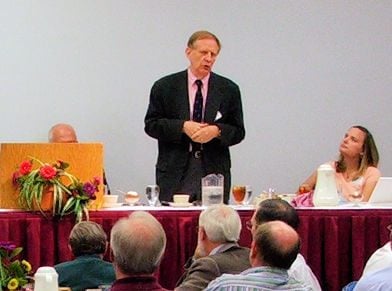 No, I don't think so. I doubt it very, very much.
Yet that's a suggestion that's making the rounds in certain circles.
We're not close pals and drinking buddies, but I've known Richard for many years now, and the Richard that I know is a believer.
I would be enormously surprised if that has changed — and (although I think his wording was unfortunate), I don't think that there's really anything in his recent comments to suggest that it has.
Neal Rappleye helpfully considers the matter here:
"'The Dominant Narrative is Not True': Some Thoughts on Recent Remarks by Richard Bushman"
I don't particularly want to pester Richard, but, if the claim gets much more circulation, I suppose I'll just write to him and seek clarification.
Postscript: The comment above now needs to be supplemented by "Richard Bushman and the fundamental claims of Mormonism."