This seems to me as apt an occasion as any to append something that I originally posted back in September 2013, under the title of "The Middle Eastern Texts Initative: Farewell and a Retrospective."  I frequently run into retellings of the saga of my departure from the Maxwell Institute that are as inaccurate as they are confident.  Accordingly, in an effort to preserve the historical record from malformation — it might otherwise take on a permanently distorted shape, rather like an improperly set bone — I occasionally post portions of the story as I know and experienced it.  (Only partially, though.  Many names and details have been omitted to protect the guilty.)
I recently encountered a narrative online that provided its readers a fairly detailed and wholly false account of my exit from the Middle Eastern Texts Initiative or METI.  With that in mind, here's something of my own perspective on, specifically, METI.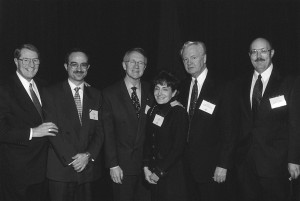 Bridge-building as a spiritual metaphor has a very old history.
In Latin, the word pontifex means "bridge builder."  But the term very soon took on a much more exalted sense.  This may be because bridges over the Tiber River, which runs through the city of Rome today and which was thought to be sacred and a god, were regarded as spiritually significant.   They may have been thought to smooth the "bridge," symbolically speaking, between gods and men, and between this life and next. (In C. S. Lewis's "Chronicles of Narnia, in a chapter entitled "The Very End of the World," at the very end of The Voyage of the Dawn Treader, Aslan explains that "I am the great Bridge Builder."  C.S. Lewis knew his Latin and Greek well.)
In ancient Rome, the Pontifex Maximus, or "Greatest Pontiff," was the high priest of the College of Pontiffs.  The title dates to at least the eighth century BC.  Later, it came to be used for Christian bishops, and particularly for the pope—especially since the Renaissance.  The pope is the Summus Pontifex Ecclesiae Universalis, the Supreme Pontiff of the Universal Church.
So, symbolically, bridge-building can be something very sacred.  And it's certainly much needed in today's world.
Early in my studies of Islamic languages and cultures, I perceived a need for translations into English that would help, in their modest and limited but important way, to bridge the gulf between the West and the Islamic world, as well as between specialized scholarship and more general readers (including scholars in related fields).  Having begun my academic studies as a classicist, I knew that almost every work of even marginal significance from the ancient Greeks and Romans was accessible to non-specialist readers in translation.  And major works, such as those of Homer, Virgil, Plato, Aristotle, and the great playwrights, were available in multiple translations, and often via inexpensive paperback editions in ordinary chain bookstores.
This simply wasn't the case for even the basic texts and classics of the Islamic tradition.  Few specimens of Islamic science, medicine, literature, philosophy, theology, history, and law had ever been translated, and, of those that had been rendered into English or some other Western languages, very few were easily available.  This made mutual comprehension even harder than it already was.
Westerners who sought first-hand knowledge of Islamic writing had little choice:  Either they spent years mastering one or more difficult and very foreign languages, or they remained ignorant.  Even non-specialist historians of philosophy and science often made gross mistakes about the specifically Islamic history within their broader fields, but it wasn't their fault.  It was the fault of the specialists, who had not made the relevant texts available to them.
One day, very early in the 1990s, I received a telephone call from Elder Alexander Morrison, a Canadian biochemist and a former academic and government leader, who was then serving in the First Quorum of the Seventy of The Church of Jesus Christ of Latter-day Saints.  He wanted to meet with me, he said, at the direction of Elders Neal A. Maxwell and Dallin H. Oaks of the Council of the Twelve Apostles, in order to discuss ways in which Brigham Young University could help the Church to send a message of friendship and respect to the Muslim world.
We discussed several possibilities, but the suggestion that he clearly liked best among those I offered was the notion of launching a translation series.  We would help the Islamic world to tell its own story to the West, rather than speaking about them.
It took a long and sometimes frustrating time to raise the money with which to establish the project, and sometimes I felt uncomfortably like a television evangelist, with my hand always outstretched for "love gifts."  But eventually the money began to arrive, and I was able to hire student help and then, ultimately, a full-time employee.
When the first volume of the new Islamic Translation Series came out in 1997, it included my  "Foreword to the Series," which has appeared in every one of the Series publications since that time.  In part, that "Foreword" reads as follows:
Islamic civilization represents nearly fourteen centuries of intense intellectual activity, and believers in Islam number in the hundreds of millions.  The texts that appear in [the Islamic Translation Series] are among the treasures of this great culture.  But they are more than that.  They are properly the inheritance of all the peoples of the world.   As an institution of The Church of Jesus Christ of Latter-day Saints, Brigham Young University is honored to assist in making these texts available to many for the first time.  In doing so, we hope to serve our fellow human beings, of all creeds and cultures.  We also follow the admonition of our own tradition, to "seek . . . out of the best books words of wisdom," believing, indeed, that "the glory of God is intelligence."
The launch of the Islamic Translation Series was, in my judgment, something of a miracle.  There were many who thought that Brigham Young University lacked the ability and the gravitas to pull it off; one now-deceased professor at Harvard, after meeting with me, tried rather surreptitiously to launch his own series.  (Friends at various universities nationwide told me about being invited to join him, which they didn't.)  This was, in the early days, a very serious threat to the viability of our project, and one of my most gratifying days came when he threw in the towel and sought to be re-invited to our advisory board.
The Islamic Translation Series (ITS) was launched with the Tahafut al-Falasifa (The Incoherence of the Philosophers) by the great mystic and theologian al-Ghazali, translated by Michael Marmura of the University of Toronto.  (And thereby hang many tales, which I'll tell at some other time.)  It set the pattern for ITS books: an elegant dual-language edition, with the Arabic original and the English translation on facing pages.
We were able to do this in part because of a remarkable coincidence, if indeed it was merely coincidence:  At a time when Arabic word processing was in its infancy, when even Oxford University Press had recently published a grotesquely expensive Arabic/English text with the Arabic written out in the spidery scrawl of the book's elderly German translator, the finest Arabic word processing software in the world was being produced by my neighbor.  I had first met him in Cairo as a fellow student, and now we were living in the same ward.  I was his home teacher.  We thus had a crucial technical advantage that nobody else in the world enjoyed.
The Islamic Translation Series has followed the Incoherence up with other books, such as The Niche of Lights, also by al-Ghazali; The Decisive Treatise and Epistle Dedicatory and the Middle Commentary on Aristotle's De Anima of Ibn Rushd or Averroës; Suhrawardi's The Philosophy of Illumination; Mulla Sadra's The Elixir of the Gnostics; Ibn Sina or Avicenna's The Metaphysics of the Shifa' and his two-volume The Physics of the Shifa' (regarding which we hosted an international conference in June 2010); Qadi 'Abd al-Jabbar's Critique of Christian Origins; the debate between the Isma'ili Shi'ite thinker Abu Hatim al-Razi and the rationalist Muhammad b. Zakariyya al-Razi entitled A'lam al-Nubuwwa; and an anthology on classical Islamic educational theory.
The goal was to make these texts accessible in every sense of the word, including keeping the prices deliberately low.  (This once gained me a stinging rebuke from an officer of the Dutch academic publisher E. J. Brill, famous for its high prices, who excoriated me for "ruining the market."  I was very pleased.)  I wanted these books to be used in classrooms.  I wanted them to be cheap enough that a professor could require them of students without having pangs of conscience.  Thus, I was obliged to constantly search for funding.  But I thought it worthwhile.  The point was never to make a profit but to spread intercultural understanding, to build bridges as well as to further scholarship.
And it most definitely did build friendships.  There were celebratory events focused on the series, often hosted by Arab ambassadors or government ministers, in Beverly Hills, Washington DC (2), New York (2), London, Cairo, Amman, and Damascus.  The Library of Congress hosted a conference dedicated to the project's work on Islamic science.
I still vividly remember being approached by three Iranian university students, clad from head to toe in black chadors, who handed me a note thanking me for the Islamic Translation Series.  (I had been invited to Tehran precisely because of my involvement in the effort.)  I reflected then that there were probably no two countries on the planet more opposed to one another than the United States and the Islamic Republic of Iran, and how wonderful it was that I could be a part of something that served, in however small a way, to bridge the abyss between them.
At the instigation of others—I actually resisted the move, though, later, I realized the wisdom and even the necessity of it—I allowed myself to be backed away from full-time teaching in order to concentrate more on the translation project and on certain other assignments (e.g., overseeing the digitization of the Dead Sea Scrolls, the use of multispectral imaging to recover damaged texts from papyri at Herculaneum, and so forth).  I brought the translation project with me into what was then the Foundation for Ancient Research and Mormon Studies (or FARMS), which would ultimately become the Neal A. Maxwell Institute for Religious Scholarship.  (I had already been associated with FARMS as an author, as a board member and eventual chairman of the board, and as the editor of its semi-annual volume of book reviews.)  The Foundation had a bookkeeper, receptionists, a business manager who could handle contract matters, and the like, which, I believed, would free me up to concentrate on METI's indispensable fundraising and to do the purely academic and editorial jobs that the project demanded.
In order to cover some of my classes, a well-known and much-loved Egyptian teacher of Arabic was brought from the University of Chicago to BYU for a while.  (He also served as the imam of the University's Muslim students.)  One night, over dinner, I confided to him that I was concerned about the editing of our texts.  I was, I felt, a reasonably competent English-language book editor, but I was worried about keeping the quality of the Arabic side of our books up to a professional, academic level.  Did he know anybody who was a qualified Arabic editor?  It turned out that he had grown up in an area of Cairo known as Bulaq, which was the historic home of Arabic-language book publishing.  More, he had grown up literally above a printing shop, and he had been editing books since he was fourteen—long before he went on to earn his doctorate at Al-Azhar University (an Islamic religious institution older than Oxford and Cambridge), whose graduates are legendary for their command of classical Arabic.  He joined the project enthusiastically.  And his name, Muhammad Eissa ("Muhammad Jesus") was perfectly suited to our bridge-building effort.  I told him that he lacked only Musa ("Moses") in order to be perfect.
Gradually, the recognition of other needs beyond scholarship and the building of bridges between Islam and the West began to dawn upon me, other ways, beyond the purely academic, in which the translation effort could do and was doing good.  Arabs and Muslims have spread across the West in something rather like the Jewish diaspora, and they want their children and grandchildren (whose Arabic is often shaky, at best) to understand the glories of their cultural heritage.  These books can and do serve such people.  Moreover the world-wide Muslim community is mostly non-Arab, and parts of it prefer English to Arabic.  It was gratifying, therefore, to receive a note of thanks, very early on, from an Indonesian social worker who had always wanted to read The Incoherence of the Philosophers and who had bought a copy of our translation at a bookstore in Jakarta.  It was pleasant to be told by a Pakistani lawyer how much he valued our books.
It also occurred to me that our volumes could help to remind not only the West but many Muslims themselves of the great humane culture of learning that Islam had created.  They and their children need to understand that Islam doesn't require a retreat to the seventh century, into mountain caves, and into violent nihilism.  These great books illustrate a very different approach than that of 'Usama b. Ladin and Ayman al-Zawahiri.
But the focus of the translation effort soon broadened beyond Islam alone.  I was approached by a prolific researcher into the history of Middle Eastern medicine and science who is based at the University of Cologne, in Germany, and who had been impressed by our books to that point.  Would we be interested in publishing the medical works of the most illustrious medieval rabbi and philosopher?  He had worked in Egypt, and he wrote in Arabic.
So, soon, we began to publish The Medical Works of Moses Maimonides, and that continues.  I would love, eventually, to see an Arabic/English version of Maimonides' famous Guide of the Perplexed.
It seemed only reasonable, thereafter, to complete our portrayal of the golden age of Islamic civilization, which Muslims, Christians, and Jews produced by working together—often rather well.  Moreover, I remembered very distinctly a conversation that I had had with Father Khalil Samir, S.J, during an academic conference at Claremont while I was still in graduate school.  An eminent authority on Christian Arabic literature and, at the time, a faculty member in the Pontifical Oriental Institute in Rome, he had implored me to consider translating Christian Arabic materials into English.
So we launched our two parallel series, Eastern Christian Texts and the Library of the Christian East.  They've produced a dual-language edition of Yahya b. 'Adi's The Reformation of Morals  by Father Sidney Griffith of the Catholic University of America (based upon a text established by Father Samir himself); an English-only anthology of writings by Theodore Abu Qurrah, the first significant Christian author in Arabic; and a Syriac/English edition of poetic hymns by St. Ephrem of Syria.
Collectively, these two Christian series, along with the Islamic Translation Series and The Medical Works of Moses Maimonides, were termed the Middle Eastern Texts Initiative, or METI.
We have not infrequently had Jewish translators working with Muslim editors on medieval Christian texts for publication by a Mormon university.  I've loved it.  I feel that the project has done something very important.  Perhaps many things.
On the morning of 11 September 2001, I was preparing to head up to campus when my wife called to me.  "You need to see this," she said, and we watched together in horror as the first of the World Trade Center towers burned.  I wondered at first if it were merely a horrific accident.  (I'd often flown into New York City and marveled, during some approaches, at how close we were to the big buildings in Manhattan.)  Then we saw the second plane hit the other tower, and we knew that this was no accident.  I was immediately certain that this was a deliberate attack by al-Qa'ida.  (Simultaneous attacks, as in the earlier case of the embassies in Kenya and Tanzania, were their signature style.)
My little attempt at bridge-building seemed pointless, small, futile.  Overwhelmed by events.  And then I heard a voice.  Not an audible one, but very distinct nonetheless.  "The project is more important now than it has ever been," it said.
I believe that still.
Last month, amidst the continuing aftereffects and fallout of the events that took place within the Maxwell Institute in the middle of June 2012, seeing literally no alternative and no way to function, I finally resigned as editor-in-chief of the Middle Eastern Texts Initiative.  I hope the best for the future of the project, which I believe to be of enormous importance both in terms of scholarship and in terms of things far beyond mere scholarship.