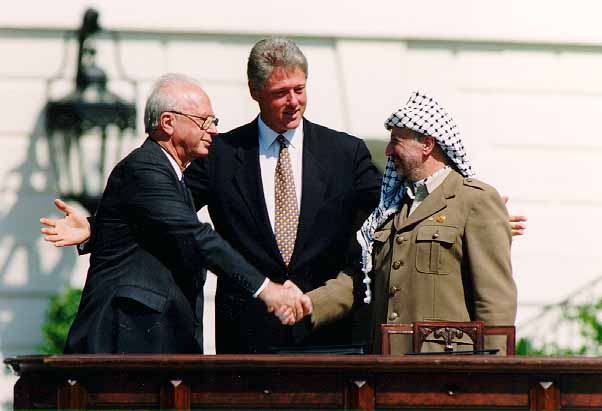 Every year, in connection with the annual Sundance Film Festival, the Sundance Institute — joined by Zions Bank and the World Trade Center Utah — sponsors a "Thought Leader Symposium." This year the focus of the symposium was on "Israel and Palestine," and it took the form of a three-person panel discussion that was held this morning at the Little America Hotel in Salt Lake City. I participated as one of the three panelists, along with Tarek Mango, a Jordanian/American businessman and consultant focused on international commerce with and within the Middle East, and Hilla Medalia, a Peabody Award-winning Israeli filmmaker whose newest work, The Oslo Diaries, is currently being shown in connection with the Sundance Film Festival.
The discussion was quite interesting, I thought. One of my assigned tasks for the panel was to provide a very brief opening historical introduction to the Arab-Israeli conflict. I may write up what I said and post it here when I get the time.
***
We just returned a few minutes ago from a Utah Opera performance of the 2010 composition Moby-Dick, by Jake Heggie and Gene Scheer. I wasn't previously familiar with it and didn't have any particular expectations. But I enjoyed it very much. Two spoilers: The legendary white whale has no speaking part and sings no arias. And fans shouldn't be looking forward to Moby-Dick II: The Return of the Pequod. I just don't think that a sequel is likely to happen.
***
Last night, we took in a performance of the musical
Bright Star
, by Steve Martin (yes,
that
Steve Martin) and Edie Brickell, at the Pioneer Memorial Theater in Salt Lake City. The play had a moderately successful run on Broadway (109 performances, if I remember correctly) but was eclipsed by another new show:
Hamilton
. I haven't seen
Hamilton
. But my wife and I bought the soundtrack some time back, and neither of us has warmed to it.
Bright Star
, though, was rather touching — even if my wife and I both saw its conclusion coming about a light year away. Hearing a musical done with a bluegrass flavor — those who know Steve Martin's musical work won't be surprised at that — was really nice. (Especially for someone who, like me, was a member of the San Gabriel Valley Bluegrass Association and once spent an entire enraptured afternoon literally sitting at the feet of
Doc Watson
and his son
Merle
in a friend's living room.)
***
On Monday night, my wife and I enjoyed dinner with a group of neighbors and friends who then went on to the Orem Hale Center Theater for a performance of Dear Ruth. I, alas, was feeling under the weather with my second major cold of 2018 and, at the last minute, dropped my wife off and headed home. Which I really regret.
***
Late the previous week, though, we took in the Peking Acrobats on the BYU campus. As always, they were spectacular. Almost another species.
I feel a bit guilty about enjoying such performances, though. Some of the contortions are so unnatural looking. And, from what little I know about the training of these superb Chinese acrobats, I wonder whether I should really be supporting such troupes. It's rather like the issues surrounding eating veal. Veal is delicious, but the requirements of making it seem inhumane, even cruel.
Posted from Salt Lake City, Utah