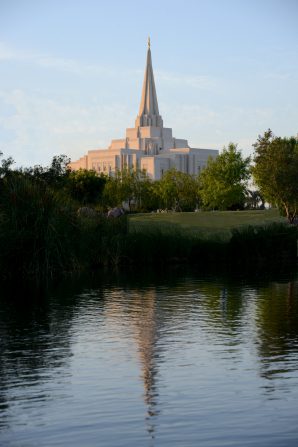 I was on an airplane this morning, flying from Phoenix to Salt Lake City, when the new First Presidency — Russell M. Nelson, Dallin H. Oaks, and Henry B. Eyring — was announced.
Many were surprised and not a few disappointed that Elder Dieter Uchtdorf is not a member of this new presidency.  I myself was mildly surprised and slightly disappointed.  As many other Church members do, I like him very, very much.
But I've seen online references to his having been "demoted," and I want to comment on that.
He hasn't been "demoted."  He wasn't "dropped" from the First Presidency.
When President Thomas S. Monson died on 2 January 2018, the First Presidency was immediately dissolved.  It ceased to exist.  From then until 14 January — the apparent date on which this new First Presidency was organized — there was no First Presidency.  The counselors to President Monson instantly returned to their places in the Quorum of the Twelve Apostles upon his death.  And then, when President Nelson became president of the Church, he organized a new First Presidency by calling two members of that quorum to serve as his counselors.
Granted, it has very often been the practice to call the men who had served as counselors in the immediately preceding presidency into the new one.  But no rule exists demanding that this must be so any more than there is a rule that a new bishop or stake president must call as counselors the two men who served under his predecessor.  And, I might add, it may very well be healthy to have made that fact clearly obvious in this case.
The same point can be made with regard to President Eyring, who served as first counselor under President Monson and who has now been called to serve as second counselor to President Nelson.  I don't really like the language of "demotion" and "promotion" in such ecclesiastical matters as this.  But, if one chooses to use it, President Eyring wasn't "demoted" from first counselor to second counselor.  He was "promoted" from the Council of the Twelve, where he had been for about two weeks, into the First Presidency.  (And Elder Uchtdorf remains a member of the Twelve, which he has been since 2 January.)
Some personal observations about this new First Presidency:
First, I'm impressed by their uniform hairstyle.  I find it inspiring.
Second, this is a very academic group:  President Nelson himself holds both an M.D. and a Ph.D. and was, for years, a member of the faculty of the School of Medicine at the University of Utah.  (His wife also holds a Ph.D.)  President Oaks taught at the University of Chicago Law School (where he had earned his juris doctorate) and even served for a time as interim dean of the law school before assuming the presidency of BYU.  When President Eyring was born, his father was a professor at Princeton University.  (His father later went on to serve as the dean of the graduate school at the University of Utah and as president of the American Chemical Society.)  President Eyring himself earned an M.B.A. and a doctorate at Harvard University, served on the faculty at Stanford University, was a visiting fellow at the Massachusetts Institute of Technology, presided over Ricks College (now BYU-Idaho), and served twice (1980-1985 and 1992-2005) as the Church's commissioner of education.
I'll probably have some further observations in another post.