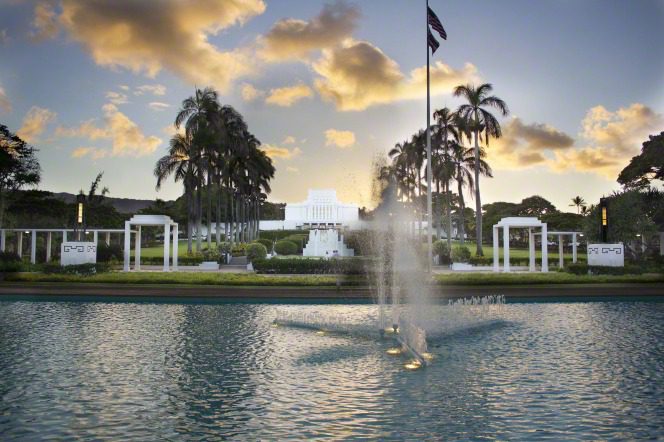 We attended services this morning at the Laie Fourth Ward, directly adjacent to the grounds of the Laie Hawaii Temple. The talks were very good and the music was energetic and there were several spirited "alohas," and, at the end of sacrament meeting, after the benediction, the multi-ethnic congregation stood to bid farewell to an older sister who is leaving for the mainland, where she will live with her children. It's tradition here — I've seen it several times myself — for the members of Hawaiian wards to sing "Aloha 'oe" and then to stand in line to drape the neck of the departing person with leis. It's quite moving.
| | |
| --- | --- |
| Haʻaheo e ka ua i nā pali | Proudly swept the rain by the cliffs |
| Ke nihi aʻela i ka nahele | As it glided through the trees |
| E hahai (uhai) ana paha i ka liko | Still following ever the bud |
| Pua ʻāhihi lehua o uka | The ʻāhihi lehua [a Hawaiian flower] of the vale |
| | |
| Hui: | Chorus: |
| Aloha ʻoe, aloha ʻoe | Farewell to thee, farewell to thee |
| E ke onaona noho i ka lipo | The charming one who dwells in the shaded bowers |
| One fond embrace, | One fond embrace, |
| A hoʻi aʻe au | 'Ere I depart |
| Until we meet again | Until we meet again |
| | |
| ʻO ka haliʻa aloha i hiki mai | Sweet memories come back to me |
| Ke hone aʻe nei i | Bringing fresh remembrances |
| Kuʻu manawa | Of the past |
| ʻO ʻoe nō kuʻu ipo aloha | Dearest one, yes, you are mine own |
| A loko e hana nei | From you, true love shall never depart |
| | |
| Tomago: | Refrain: |
| Maopopo kuʻu ʻike i ka nani | I have seen and watched your loveliness |
| Nā pua rose o Maunawili | The sweet rose of Maunawili |
| I laila hiaʻia nā manu | And 'tis there the birds of love dwell |
| Mikiʻala i ka nani o ka liko | And sip the honey from your lips |
| Hui | Chorus |
The song is typically believed to have been composed by Queen Liliʻuokalani (d. 1917), the last monarch of independent Hawai'i. (She was deposed in 1893.)
The singing of "Aloha 'Oe" is a custom that I would love to see adopted elsewhere in the Church, although it would probably just seem artificial and forced. Here, it certainly doesn't.
The Sunday school and priesthood classes were also very enjoyable. It's one of the great things in the Church, in my view, that we can drop into a congregation far away from home, among people who may or may not speak our language or look very much like us, and immediately feel . . . at home.
Posted from Laie, Oahu, Hawai'i