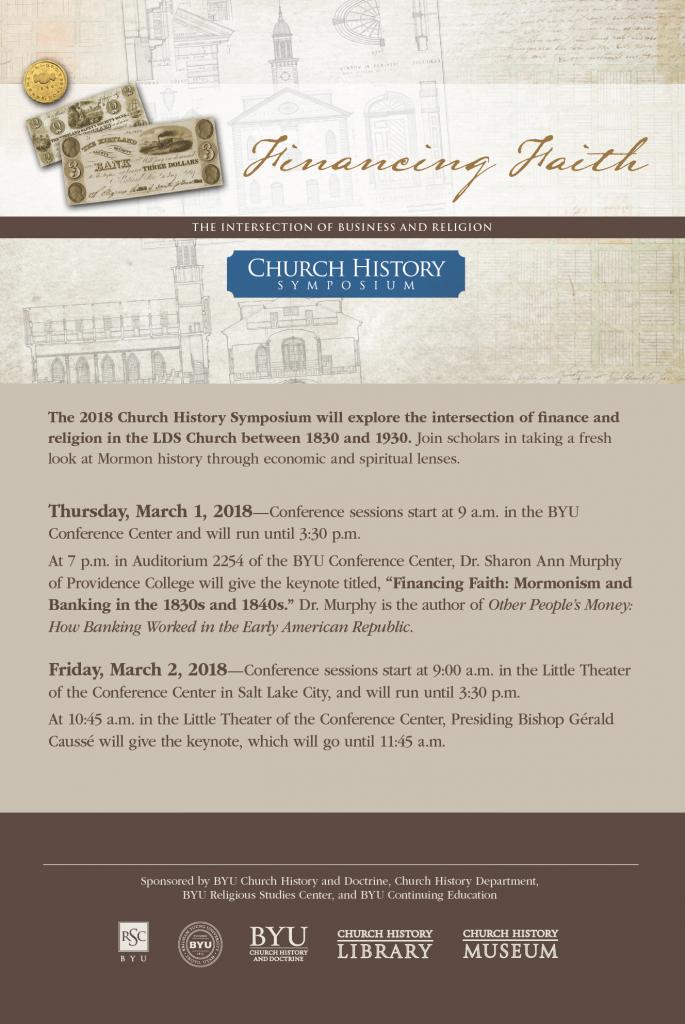 I received the following from Erin Gazdik, at BYU's Religious Studies Center:
The 2018 Church History Symposium will explore the intersection of finance and religion in the LDS Church between 1830 and 1930. In doing so, we hope that scholars will take a fresh look at Mormon history from the vantage point of economics and finance. 
We hope that this symposium will add to, complicate, or even revise portions of the standard economic history narratives, while also exploring other areas of Mormon history through an economic and spiritual lens.
Thursday's session will be held at the BYU Conference Center and will run until 3:30 p.m.  Our keynote speaker on Thursday, Dr. Sharon Ann Murphy, will be speaking in Auditorium 2254 at the BYU Conference Center at 7 p.m.
Friday's session will be in the Little Theater of the Conference Center in Salt Lake City—walking distance from where RootsTech will be held if you plan on attending both.  Our keynote speaker on Friday, Presiding Bishop Gérald Caussé, will be speaking at 10:45 a.m.
***
Well, it's Friday.  So what did you expect?  It's another week, so, naturally, there's another new article in Interpreter: A Journal of Mormon Scripture:
"'Possess the Land in Peace': Zeniff's Ironic Wordplay on Shilom"
***
Still working slowly through John W . Welch, et al., eds., Knowing Why: 137 Evidences That the Book of Mormon Is True (American Fork: Covenant Communications, 2017)
"Why Did Nephi Quote a Temple Psalm while Commenting on Isaiah?" (124-125)
In 2 Nephi 25, Nephi begins his commentary on Isaiah 2-14 (which, in the Book of Mormon, appears as 2 Nephi 12-24).  Significantly, 2 Nephi 25:16 contains the distinctive phrase "with pure hearts and clean hands," which almost certainly comes from Psalm 24:3-4.  
Psalm 24 as a whole is about entering the temple at Jerusalem and seeing the face of God.  A similar complex of ideas occurs at Alma 5:18-19.
Interestingly, the language of 2 Nephi 25:16 — terms such as atonement, worship, and name of God — would likely also have been connected, in the mind of an ancient Israelite, with the temple.
This fits very nicely with the passages from Isaiah that he had just finished quoting.  After all, 2 Nephi 12:2-3 (= Isaiah 2:2-3) begins, right off the bat, with a description of people assembling at the temple: 
2 And it shall come to pass in the last days, when the mountain of the Lord's house shall be established in the top of the mountains, and shall be exalted above the hills, and all nations shall flow unto it.
3 And many people shall go and say, Come ye, and let us go up to the mountain of the Lord, to the house of the God of Jacob; and he will teach us of his ways, and we will walk in his paths; for out of Zion shall go forth the law, and the word of the Lord from Jerusalem.
These are rather subtle elements in the Book of Mormon.  Was Joseph Smith really thinking of such things while — as some critics seem to imagine — he was making the whole thing up on the fly?