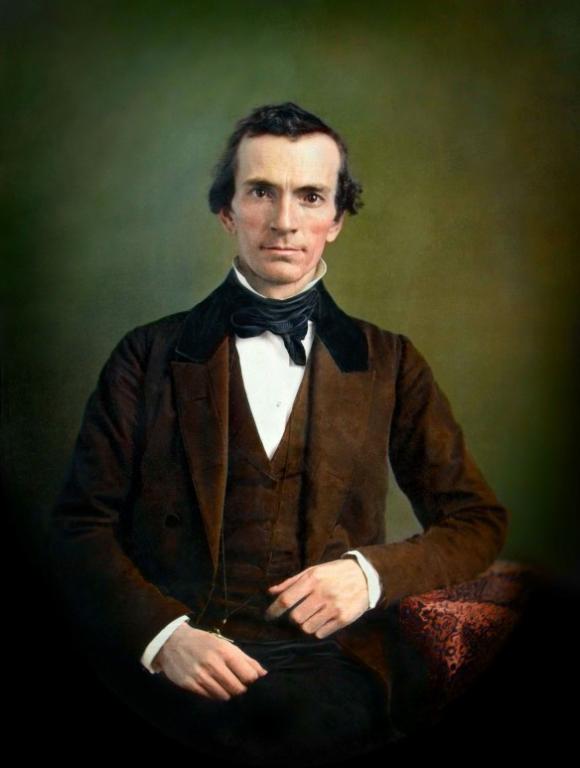 From one of my myriad incomplete manuscripts:
Oliver Cowdery was bedridden for most of 1849, probably as a result of chronic pulmonary tuberculosis, and died at Richmond, Missouri, on 3 March 1850.[1]  A few months before his death, Cowdery was visited by Jacob Gates, a Latter-day Saint traveling eastward on a mission to England who had been a friend since before Cowdery's 1838 excommunication. In the course of conversation, Gates asked him about his experience as one of the Witnesses to the Book of Mormon. Had it been a dream? Was it imagination, or illusion, or mere mythology? Cowdery rose from the place where he was resting, retrieved a first edition copy of the Book of Mormon, and read aloud the Testimony of the Three Witnesses. Then, turning to face Gates, he said,
Jacob, I want you to remember what I say to you. I am a dying man, and what would it profit me to tell you a lie? I know . . . that this Book of Mormon was translated by the gift and power of God. My eyes saw, my ears heard, and my understanding was touched, and I know that whereof I testified is true. It was no dream, no vain imagination of the mind—it was real.[2]
[1] The likely medical diagnosis is offered by Faulring, "The Return of Oliver Cowdery," 172 note 106.
[2] Jacob Forsberry Gates (son of Jacob Gates), signed and notarized affidavit, 30 January 1912, LDS Church Archives, as cited in Faulring, "The Return of Oliver Cowdery," 153.
***
Washington Post:  "Romney is running for Senate. Even if he wins, the Mormon Church has already lost powerful status in D.C."
***
If you missed it — where are your priorities? — you still have a chance to hear the episode of the Interpreter radio show that was broadcast on Sunday, 11 February 2018.  It featured Craig Foster, Brian Hales, Martin Tanner, and Allen Wyatt, and it focused, in large part, upon early Mormon plural marriage.  It's accessible here, at no charge:
***
The latest Hamblin/Peterson column has now been published by the Deseret News:
"African religions in the New World"
***
Many, if not most, teachers and students in the Gospel Doctrine classes of the Church of Jesus Christ of Latter-day Saints will find excellent resources on the Interpreter Foundation website:
"Gospel Doctrine Lesson Index: Old Testament"
And new materials will be added on a regular basis — typically every week.
***
"The Prayer That Led President Ballard's Grandfather to Seeing the Savior Face to Face"
***
"Mormon Helping Hands Serving at Pyeongchang Winter Olympics"
"Cyclone Gita Pounds the Kingdom of Tonga"
Posted from Oceanside, California