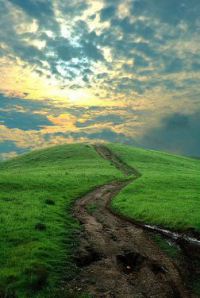 Oh, what the heck.  The book is so good that I'm going to share just a little bit more with you from Fiona Givens and Terryl Givens, The Christ Who Heals: How God Restored the Truth that Saves Us, pages 104-105:
No loving parent would propose a plan that shuts the door of happiness to any of his or her children.  God reminds Job of a time when  "all the sons of God shouted for joy."  Only a proposal that opens the path to salvation for all God's children would be praiseworthy.  And that was clearly understood in the early Christian centuries.  Morwenna Ludlow has recently written that, "Indeed, in the early Christian Church there were two important streams of eschatological thought: a universalist stream, which asserted that all people would be saved, and a dualistic stream, which stressed the two parallel fates of eternal heaven and eternal hell."  The first tradition was represented by Origen, Gregory of Nyssa, his sister Macrina, Maximus the Confessor, and others.  Origen saw mortality as the crucial second stage in an ongoing saga of eternal progression.  "The saints who depart this life," he wrote, will progress to a
place of instruction, and so to speak, class-room or school of souls, in which they are to be instructed . . . and are to receive also some information respecting things that are to follow in the future, . . . all of which are revealed more clearly and distinctly to the saints in their proper time and place.  If any one indeed be pure in heart, and holy in mind, . . . he will indeed, by making more rapid progress, quickly ascend . . . and reach the kingdom of heaven. . . .  And thus he will in order pass through all gradations, following him who hath passed into the heavens, Jesus the Son of God, who said, "I will that where I am, these may be also."
Gregory of Nyssa taught the same consoling truth: "[God's] end is one, and one only; it is this: when the complete whole of our race shall have been perfected from the first man to the last . . . to offer to every one of us participation in the blessings which are in Him."
Here is no automatic salvation, but a process in which, following death, we would move on to a "school of souls" in which the departed will continue to be instructed "by word, reason, and doctrine; by a call to a better course of things," but always "consistently with the preservation of freedom of the will."  Any correction would be medicinal and pedagogical — and therefore not of infinite duration.  (Like Joseph, Origen rejected the interpretation of eternal as "nonending.")  Men are educated insofar as they are drawn by love.  This was Origen's emphasis: "the redeeming power of God's love and the universal scope of Christ's incarnation and resurrection."  These Greek Fathers championed a God who never shut the door of salvation to their children, here or hereafter.