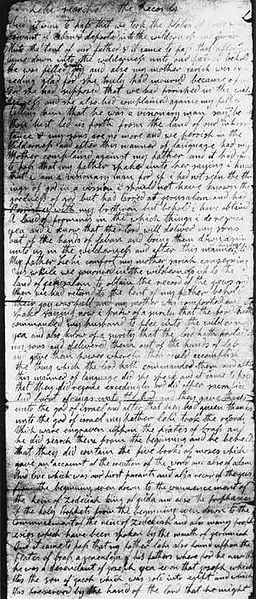 An important new article from Interpreter: A Journal of Mormon Scripture:
"Is the Book of Mormon a Pseudo-Archaic Text?"
We wish you a happy, safe, and satisfying weekend, and remind you of the Interpreter Radio Show, which will be broadcast on Sunday evening at 7 PM, Utah time, and which can also be heard via the K-Talk website.  Our program now runs for two hours, instead of just one.  But it will seem even longer this weekend, because, if things go according to plan, I will be participating in studio on Sunday.
***
Some of you will enjoy this:
"LDS Church leaders welcome members of Jewish delegation for tour of Church operations"
***
And some will enjoy this, as well:
"God's Compelling Witness: The Book of Mormon"
***
Permit me, as a sequel to my previous blog entry regarding the new "Mormon Voices Association," to reiterate that the Interpreter Foundation will continue to seek and to accept financial contributions precisely as it has in the past.  In that regard, as in almost all others, nothing has changed.  Mormon Voices simply offers an additional modality — that word suddenly jumped into my mind, possibly just because it's cool — for soliciting and receiving donations.
In the past, some who have been interested in supporting scholarly efforts to commend and defend the claims of the Restoration have expressed concern at the variety of what they saw as potentially competing organizations.  They weren't sure which organization to endorse or to steer potential donors toward, or were unable to decide whether to give to the Interpreter Foundation, or to FairMormon, or to Book of Mormon Central.  Mormon Voices is designed, first and foremost, to meet that issue.  It may — such things are still being fleshed out — also occasionally involve joint projects undertaken by two or more of the constituent organizations together.  (We're already tentatively talking about at least one such effort, on a comparatively small scale.)
In terms of donor support, no previous options have been closed.  You are still free to give directly to the Interpreter Foundation and/or to FairMormon and/or to Book of Mormon Central, or to any combination of the three — and/or, of course, to any other cause that you favor.  Now, though, you can give to Mormon Voices, which will then distribute the funds received to the three organizations or to other, related causes.
You can still give to the Interpreter Foundation or to anybody else via Amazon.Smile, although I'm not sure that that option is available quite yet for Mormon Voices.  And I hope that you will designate some worthwhile charity to receive proceeds from Amazon.Smile.  The amounts given per purchase are small, but, if enough people get involved, they can become large.  And involvement with Amazon.Smile costs you absolutely nothing.  Moreover, once you've set it up, it's absolutely painless.  If you ever buy books or other things via Amazon.com, your purchases can assure that Amazon — Amazon — supports the cause you've chosen.  It is, truly, a no-brainer.
***
"Be not weary in well-doing, for ye are laying the foundation of a great work. And out of small things proceedeth that which is great."  (Doctrine and Covenants 64:33)