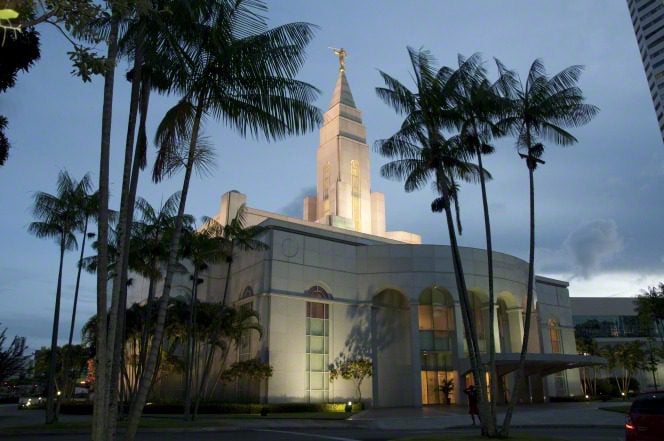 The late Sterling M. McMurrin (1914-1996), whom I met on a few occasions, was a professor of philosophy at the University of Utah who also served as the Commissioner of Education for the United States during the administration of President John F. Kennedy.  (Since then, the office has been raised to full cabinet rank as the Secretary of Education.)  Professor McMurrin was anything but an uncritical, mainstream, orthodox member of the Church of Jesus Christ of Latter-day Saints, and there is a very great deal on which I disagreed with him.  It was never even altogether clear to me that he was a theist.
Once, in fact, I had to make my way past him along a row of seats and, very inadvertently and to my enormous embarrassment, I stepped pretty solidly on his toes.  Pretty much ground them into the carpet.  I apologized profusely and genuinely but, afterwards, I comforted myself that I might perhaps have just landed the most solid blow for orthodoxy that I would ever strike.  (For some of my more obsessive and humorless critics, that last sentence is what's termed a joke.  It doesn't actually reveal my cold and hateful heart.  My depravity will need to be discerned by other means.)
Nonetheless, I do appreciate these passages from his writing:
The only religion that can satisfy today's ideal is a religion that will give consecration to life, and direction to human endeavor, inspire men with faith in themselves, dedicate them to high moral purpose, and give them the strength to live through their failures, and to face with high courage their supreme tragedies.
[I]t may be that there is no God, that the existence of all that is beautiful and in any sense good is but the accidental and ineffective byproduct of blindly swirling atoms, that we are alone in a world that cares nothing for us or for the values that we create and sustain — that we and they are here for a moment only, and gone, and that eventually there will be left no trace of us in the universe. A man may well believe that this dreadful thing is true. But only the fool will say in his heart that he is glad that it is true.
***
I seem to feel an inexplicably sudden hunger for tacos coming on:
"Family of Elder Keetch giving Taco Amigo's proceeds to Huntsman Cancer Institute on late father's birthday"
***
Three items from Robert Boylan that you might find of interest:
"Adolf Von Harnack vs. the Monarchial Episcopacy in Rome"
"No "Great Apostasy" to take place in this Dispensation"
"Two Notes on the Language Used in the Last Supper Accounts"
***
A new Old Testament "KnoWhy" from Jeff Bradshaw, of the Interpreter Foundation:
"Why Are the Stories of Joseph and Judah Intertwined?"
***
And an interesting and important item from Book of Mormon Central:
"5 Women Who Are Witnesses of the Physical Golden Plates"
***
I gave a fireside last night at a beautiful home up in the mountains of Midway, Utah.  The topic requested allowed me to dust off an old article of mine:
"Nephi and His Asherah: A Note on 1 Nephi 11:8-23"
I found that I still like it.  Quite a bit, actually.