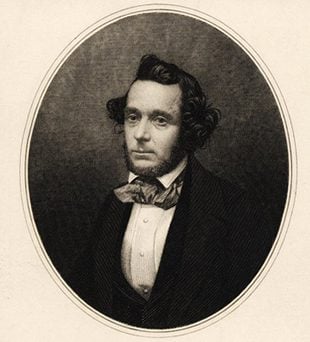 Three personal reminiscinces from people who knew Joseph Smith very well, drawn from Hyrum L. Andrus and Helen Mae Andrus, Personal Glimpses of the Prophet Joseph Smith (American Fork, UT: Covenant Communications, 2009):
Orson Pratt:
I had the great privilege, when I was in from my missions, of boarding most of the time at his house, so that I not only knew him as a public teacher, but as a private citizen, as a husband and father. I witnessed his earnest and humble devotions both morning and evening in his family. I heard the words of eternal life flowing from his mouth, nourishing, soothing, and comforting his family, neighbors, and friends. I saw his countenance lighted up as the inspiration of the Holy Ghost rested upon him dictating the great and most precious revelations now printed for our guide. . . .
Joseph Smith was one of the greatest men who ever lived in this probation, one of the greatest prophets, with the exception of our Lord and Savior Jesus Christ, ever sent to our earth. (48)
Lorenzo Snow:
Perhaps there are very few men now living [1900] who were so well acquainted with Joseph Smith the Prophet as I was. I was with him oftentimes. I visited him in his family, sat at his table, associated with him under various circumstances, and had private interviews with him for counsel. I know that Joseph Smith was a Prophet of God; I know that he was an honorable man, a moral man, and that he had the respect of those who were acquainted with him. The Lord has shown me most clearly and completely that he was a prophet of God, and that he held the Holy Priesthood and the authority to baptize people for the remission of their sins and to lay hands upon them for the reception of the Holy Ghost, that they might receive a knowledge themselves in relation to these things. I am one that has received from the Lord the strongest revelation concerning the truth of this work. That manifestation was with me powerfully for hours and hours; and whatever circumstances may occur in my life, as long as memory lasts, this perfect knowledge will remain with me. (50)
Brigham Young:
He was not killed because he was deserving of it; nor because he was a wicked man; but because he was a virtuous man. I know that to be so, as well as I know that the sun shines. I know for myself that Joseph Smith was the subject of forty-eight law-suits, and the most of them I witnessed with my own eyes; not one charge could be substantiated against him. He was pure, just, and holy, as to keeping the law.
Joseph Smith never tolerated in the least, indolence, idleness, slothfulness, drunkenness, or anything of the kind wherein exists sin. If ever Joseph got wrong, it was before the public, in the face and eyes of the people; but never did a wrong in private that I ever knew of. In his private instructions to the Saints, the Angel Gabriel could not have given better instructions than he gave, and which he continued to do until his death. Joseph Smith was as good a man, as any Prophet or Apostle that ever lived upon earth, the Savior excepted. (62-63)