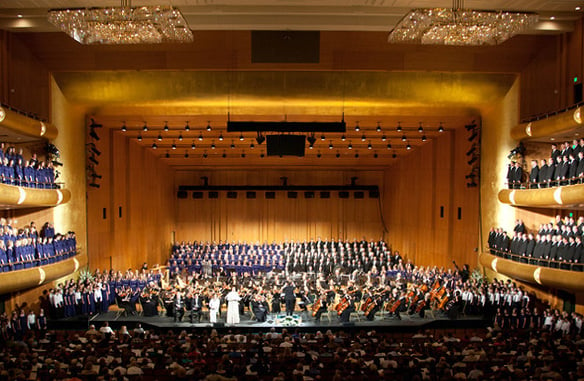 Two or three weeks ago, having just dropped my wife off at the airport, I drove home listening to a special program on KBYU-FM devoted to pieces by Felix Mendelssohn (1809-1847), a contemporary of Joseph Smith whose music I love.  I found myself reflecting on the injustice, and the loss to the world, represented by his death at the horribly early age (again, like Joseph Smith) of 38.  (To make matters worse, he had been in ill health for several years by the time he died.)
In his short life, Mendelssohn gave us such wonderful music — his catalogue lists about 200 works — as the so-called "Scottish Symphony" (the Symphony No.3 in A minor), the "Overture" and "Incidental Music" to A Midsummer Night's Dream (including the famous "Wedding March"), the Hebrides Overture, the St. Paul and Elijah oratorios, and the music to "Hark! The Herald Angels Sing."  He was also a pivotal figure in reviving interest in the music of J. S. Bach, who had been virtually forgotten at that time.
From Elijah, here's the Mormon Tabernacle Choir singing "He, Watching Over Israel, Slumbers Not Nor Sleeps":
I was saddened by the thought of how much more Mendelssohn could have given us, had he been granted a healthy lifespan of even seventy years.
My wife and I have just (Friday night) returned from a concert by the Utah Symphony at Abravanel Hall.  The guest conductor this evening was Karina Canellakis, who was very energetic and remarkably entertaining to watch.
The concert opened with Le Chasseur maudit ("The Accursed Huntsman"), by César Franck (1822-1890), which I like a great deal.
It continued with Sergei Prokofiev's Concerto No. 2 in G minor for Piano and Orchestra, Op. 16, an extraordinarily difficult piece that I don't believe I've ever heard before.  The guest pianist was Conrad Tao, who was nothing short of spectacular.  And, fortunately, my wife and I were well positioned to watch his hands flying across the keyboard.  Tao received a prolonged standing ovation from the audience — so long, in fact, that, when he came out the third time, he performed a mid-concert encore of a solo piece by Domenico Scarlatti (1685-1757), who — like Prokofiev himself — has long been a favorite composer of mine.  (I've always been partial to the Baroque — Bach, Buxtehude, Handel, Vivaldi, Scarlatti, and etc.)
The last piece was Pyotr Ilyich Tchaikovsky's Symphony No. 2 in C minor, Op. 17 "Little Russian."  Not my favorite Tchaikovsky, I'll admit, but very pleasant and sometimes stirring.
The concert program got me to thinking again about mortality and loss.  César Franck lived to a reasonably good age, but both Prokofiev (1891-1953) and Tchaikovsky (1840-1993)  died relatively young — at respectively, not quite 62 and just barely 53.  Tchaikovsky died suddenly, but Prokofiev had been ill for eight years by the time of his passing.
Tchaikovsky gave us The Nutcracker, the Capriccio Italien, the 1812 Overture, Swan Lake, Sleeping Beauty, and many other masterpieces.  But what more could he have done had he been able to compose for another two decades or so?
From Prokofiev, we have The Love for Three Oranges, Romeo and Juliet, Alexander Nevsky, the Lieutenant Kijé Suite, and Peter and the Wolf.  But he could have done, and we could have had, so much more.
I've reflected on such things before — in my 2012 Deseret News column "Beethoven is a study in hope, healing," for example (I had no say in the titles back then).  I simply can't see how some people can regard atheism and its attendant belief in the final oblivion of death as "good news."
***
Friday, 6 April, was the 188th anniversary of the founding of the Church of Jesus Christ of Latter-day Saints, and the fifth anniversary of the death of my mother in law, Ruth M. Stephens.  Although, under the circumstances, her death came as a mercy, we miss her deeply.  I thought of both of those anniversaries throughout the day on Friday, and reflected on how the Resurrection and the Restoration give us hope.  I'm aware of others at this very time who are coping with loss.  I pray that they will be comforted.
In a letter, Mendelssohn once described death as a place "where it is to be hoped there is still music, but no more sorrow or partings."
Amen.