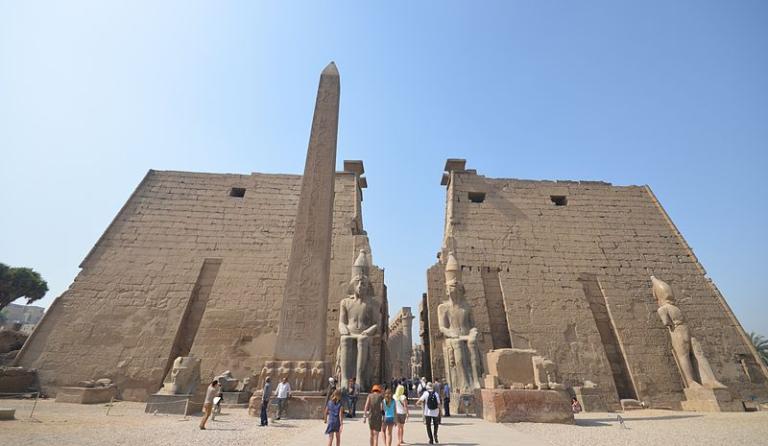 We've just returned from a hot air balloon ride above the Valley of the Kings, the temple of Queen Hatshepsut, and other features of the ancient Theban necropolis.  First time I've done that.  A new memory.
Here's an old one:
Not too terribly long after I received my California driver's license, I had it suspended for a month.  And I deserved it.
I was coming home from the library (of all things) on a Wednesday night, when a car full of people yelling my name came whizzing by very fast.  The street was relatively deserted, and, because I couldn't tell who they were, I tried to catch up with them.  (I was a sixteen-year-old male, and was thinking like one.)  As might have been predicted, I didn't catch them, and in fact never found out who they were, but I got a speeding ticket within less than a minute of my acceleration to warp speed.
My parents weren't too pleased, and it was a very long month.
But, finally, I got my license back.
Within a week or two, though, I was tooling along the Golden State Freeway (I-5) near downtown Los Angeles, heading southward from somewhere in the vicinity of Dodger Stadium, returning home from a date with my pretty-much-steady high school girlfriend.  I was driving, I thought, quite carefully, but she was sitting over by me, and that probably helps to explain what happened next.
When the time came to get over to the right and make the exit onto the I-10 (what we then called the San Bernardino Freeway), I looked in my rear view mirror, flipped on the turn signal, and moved over into the next lane — directly  in front of a California Highway Patrol car, which I hadn't seen.
Another ticket, this time for an "unsafe lane change."
This was exceedingly frustrating to me, because I thought I'd been driving pretty well (being sixteen), and because I knew how well all this would play out with the parental units.
I had a court date right downtown, in, as I recall, in the Los Angeles County Courthouse (which is shown below).  My father went with me, no doubt anticipating that he would have to drive me home after my meeting with the judge.
The judge, I recall, looked remarkably like Jerry Dunphy (d. 2002), a very popular Los Angeles news anchorman whose famous intro ("From the desert to the sea, to all of Southern California, good evening") was instantly recognizable to everybody in the area and who regularly appeared in television shows and movies playing a news anchorman (because he just simply looked perfect for the part).
We had a private session with the judge, who stressed how dangerous my maneuver on the freeway had been, and how bad my driving must have been to have merited not one but two tickets in such a short space of time.
I could say little in return.  I had no real defense.  I had definitely deserved my first ticket, though the second one seemed really bad luck.  I had, genuinely, been trying to drive well.  I guess I just hadn't understood how big my car's blind spot was, nor how well most of a black and white Highway Patrol vehicle might blend into the nighttime darkness.
He asked me if there was any reason why he shouldn't take my license away for three months or so.  I expressed remorse, etc., but, very meekly, said No.  I couldn't think of a reason.  (Inwardly, of course, I was agonizing about how this was going to cripple my social life, which revolved around my girlfriend, and my musical life, which involved several specific clubs, mostly in Pasadena and Westwood, where I was a frequent visitor along with some of my friends.)
At this point, my father, who had been silent, asked if he might say something, and the judge told him to go ahead.
My father explained that I attended an early morning church class before going to my high school, and that, if I couldn't drive, my parents would have to pick me up and take me there, and that, though they could manage it, this would be awkward.  He didn't mention the name of the Church; he wasn't yet a member.
The judge smiled and said that he thought that maybe an exception could be made for a good Mormon boy.  He told me that he would expunge this latest offense from my record, but that he expected me not to repeat such nonsense and not to be back in front of him ever again.
I floated out of the courtroom, with the thought going through my adolescent mind over and over again, "The Church is true!"
Posted from Luxor, Egypt