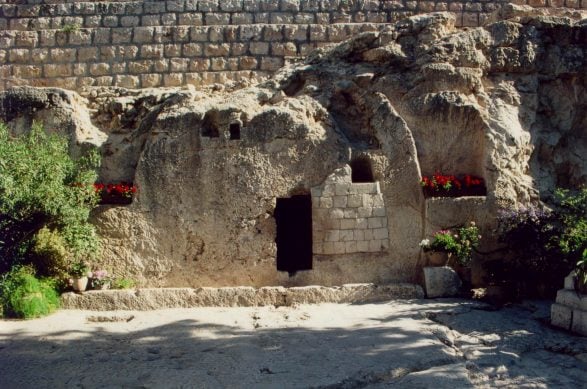 Our culminating meeting yesterday afternoon, prior to the farewell dinner at a nearby hotel, was at the Garden Tomb, just outside the walls of Old City Jerusalem, in the eastern, Arab, part of the "suburbs."  For my wife and me, this was the third time at the Garden Tomb during the past month.
At the Garden Tomb, death, hereafter, and resurrection are very naturally on a visitor's mind — and especially so when he or she is (as I am) a believing Christian.
Here's a melancholy little poem by Theodore Roethke that I first encountered in, of all places, one of the tests I that took for college admission (either the ACT or the SAT; I don't recall which).  It moved me so much that I went home and tracked it down, and I have recalled it ever since.  It's entitled "Elegy for Jane (My student, thrown by a horse)":
I remember the neckcurls, limp and damp as tendrils;
And her quick look, a sidelong pickerel smile;
And how, once startled into talk, the light syllables leaped for her,
And she balanced in the delight of her thought,
A wren, happy, tail into the wind,
Her song trembling the twigs and small branches.
The shade sang with her;
The leaves, their whispers turned to kissing,
And the mould sang in the bleached valleys under the rose.
Oh, when she was sad, she cast herself down into such a pure depth,
Even a father could not find her:
Scraping her cheek against straw,
Stirring the clearest water.
My sparrow, you are not here,
Waiting like a fern, making a spiney shadow.
The sides of wet stones cannot console me,
Nor the moss, wound with the last light.
If only I could nudge you from this sleep,
My maimed darling, my skittery pigeon.
Over this damp grave I speak the words of my love:
I, with no rights in this matter,
Neither father nor lover.
I actually once visited the place (on Bainbridge Island, Washington) where Roethke suffered a fatal heart attack and died in a swimming pool.  It's now filled in, as a Zen rock garden.  The problem of death confronts us all — in this case, both the person mourned and, with time, the mourner himself.
Posted from Lod, Israel