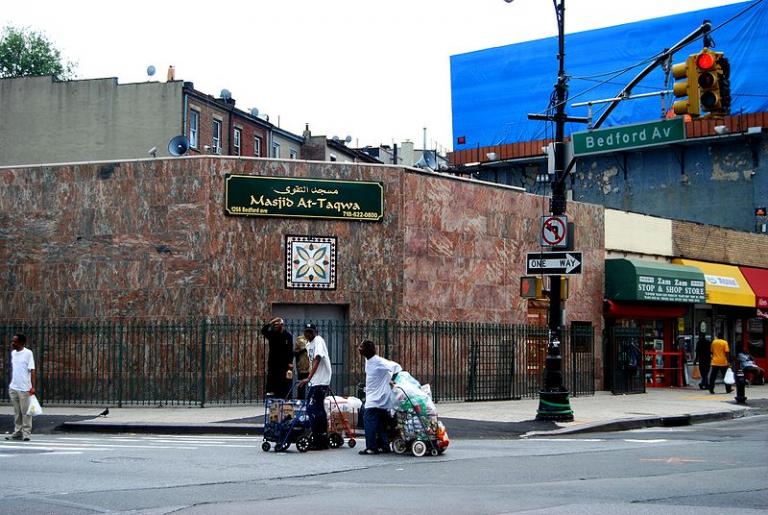 Many, many years ago — on 6 November 1996 — back long before I was as decrepit and washed up as I now am, I presented a little item on "The Concept of God in Islam and Mormonism" to a gathering on the campus of Brigham Young University that was co-sponsored by BYU's Muslim Student Association and by the University's David M. Kennedy Center for International Studies. My discussion partner was Imam Siraj Wahhaj, of the Taqwa Mosque in Brooklyn, New York.
Although I was at least as consumed by perpetually seething hatred and by hostility toward all non-Latter-day Saints then as (according to a certain faction of my critics) I am now, the evening's conversation was very pleasant. Everybody seemed to have an enjoyable and (I hope) educational time, and I found Siraj Wahhaj to be very amiable. I have fond memories of him and of the event.
So it's with real personal horror that I've been seeing the news out of New Mexico, which, among other things, prominently involves the name Siraj Wahhaj:
CNN, yesterday: "Body found at New Mexico compound identified as missing Georgia boy"
CBS News, 10 August: "Inside the remote New Mexico compound: Ammo, toys and books on assault rifles"
The Siraj Wahhaj most centrally involved in this appalling story isn't the one with whom I enjoyed that friendly discussion nearly a quarter of a century ago. Unfortunately, however, it's his son. And the body of the dead boy that has been found is that of his grandson. (Most of the other kids at the compound are also his grandchildren.)
"Imam says he helped lead police to his son on New Mexico compound"
When I had that interfaith dialogue with Imam Siraj Wahhaj twenty-two years ago, he expressed no particularly radical views and was certainly not hostile. And I'm not the only person who has found him a pleasant person. For several years, I've used An Introduction to Islam, by Professor Frederick M. Denny, now retired from the University of Colorado at Boulder, as a textbook in certain of my classes; Fred includes a photograph of his friend Imam Siraj Wahhaj in the book at the place where he's discussing Islam in the United States.
Some accounts are suggesting, however, that the elder Siraj Wahhaj was and is a radical:
"Man arrested at New Mexico compound is son of imam with possible link to 1993 World Trade Center bombing"
I don't know. He was never charged, let alone convicted, in that case, and certainly the man that I recall — from a time after the 1993 World Trade Center bombing and just after his participation in the trial of the so-called "Blind Shaykh" — seemed easy-going and open.
Some will, no doubt, attribute my sense of the senior Siraj Wahhaj to my naïveté about the horrific reality of Islam, my blindness and my alleged "dhimmitude," and perhaps even my supposedly liberal, western-civilization-hating political views.
Whatever.
The facts emerging from New Mexico are disturbing and very sad, and my heart goes out to the father and grandfather of those involved.