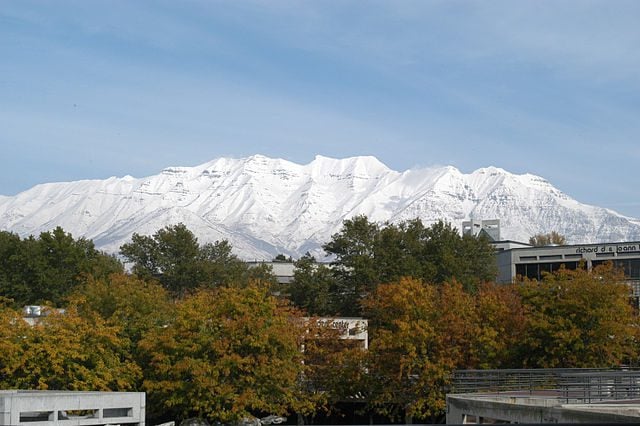 Last night, my wife and I enjoyed an elders quorum dinner, with a sizeable percentage of the quorum, at the home of the quorum president.  (One of his counselors hosted another simultaneous dinner at his place.)
As I've said many times here before, one of the things that I most appreciate about membership in the Church of Jesus Christ of Latter-day Saints is the genuine community that it provides.  Our neighborhood is far more caring and cohesive than it would otherwise be, in my judgment, because of widely shared membership in the Church.
Tonight, though, we have the Saturday session of our stake conference, and we know that unit boundary changes are coming.  There've been plenty of rumors — I've tried to stoke the flames a bit by offering my own, to the effect that every other house on the north side of our street is going to be assigned to the Springville 18th Ward, while the alternate homes will be apportioned to the American Fork 7th Ward — but, from what I've been able to deduce, our own congregation will be relatively unaffected.  We may lose some members to other units, and we may gain a few, but we'll be otherwise substantially untouched.
That's good.  Because it always hurts a bit to lose people from your community.  For a number of years, there was a ward division right down the middle of our small little street.  We were assured, when it came, that it wouldn't make much of a difference, but it did.  We largely lost touch with the daily lives of those who lived right across from us. In other words, we relapsed into pretty much the same position, with regard to our neighbors, that's true of many non-LDS neighborhoods elsewhere.  I didn't like it, and we were overjoyed when our street was put back together again.
***
This is an updated video, less than 4.5 minutes long, about the recent visit of President Russell M. Nelson and President Henry B. Eyring to the Pacific Northwest; it now includes their event in Vancouver, British Columbia, as well as the one that took place the previous evening in Seattle, Washington:
"President Nelson Shares Life Lessons in Pacific Northwest: President Eyring joins prophet on visit to Seattle and Vancouver, BC"
***
The apostles are almost always out and about.  It's not a particularly relaxing way to spend one's last years or decades.
"Elder Bednar speaks in Mexico about the importance of applying the teachings of the Savior"
***
Including both members of the Church and others:
"4,000 Typhoon Mangkhut evacuees find refuge at Latter-day Saint meetinghouses"
***
Here's a five-minute video from a Catholic philosopher, Peter Kreeft, whom I very much admire:
I recommend it very strongly.  I wish that we Latter-day Saints produced more such videos.  In fact, it's a goal of mine to someday produce some materials along these lines.
***
I like this idea:
Why don't you give it a try?
***
In other Church-related news:
"Mormon church takes another step in its anti-Prop 2 push, invites female bloggers to meeting about medical marijuana"
From four days ago:
"North Carolina Relief Society ministers to flood victims 'on a whole new level' following Hurricane Florence"
***
Don't forget the Interpreter Radio Show on Sunday night, 7-9 PM Utah time.  It's accessible both via broadcast radio and via the Internet: