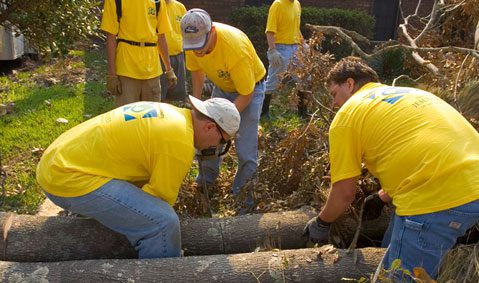 I had the pleasure and the privilege of speaking to a conference of Latter-day Saint chaplains this afternoon, up in Salt Lake City.  I've done this two or three times before, but not for several years.  This time, it wasn't just military chaplains, but also hospice chaplains, police chaplains, chaplains associated with the United States Border Patrol, and so forth.
My remarks, which addressed the theme "By Study and Also by Faith," were of negligible importance.
The next two speakers were Professor Brent Top, who recently stepped down as dean of Religious Education at BYU, and Elder Randy Funk of the Seventy.  Professor Top discussed near-death experiences — a topic to which he has devoted considerable attention and more than one book over the years — and Elder Funk's address concentrated on the importance, in the scriptures, of pondering.  They were very enjoyable talks.
I was struck by the fact that, quite independently, all three of us made important use of President Joseph F. Smith's magnificent "Vision of the Redemption of the Dead" (aka Doctrine and Covenants 138), which was received a century ago, on 3 October 1918, and which received such moving attention during the recently concluded October general conference of the Church from President M. Russell Ballard.
The fourth and concluding speaker of this afternoon's session of the chaplains' conference was Elder Gary E. Stevenson, of the Quorum of the Twelve Apostles.
I wish that every member of the Church of Jesus Christ of Latter-day Saints could have heard his remarks.
Referring to the principles that are expressly laid out in the handbook for Latter-day Saint chaplains calling them to minister to those of other faiths with as much energy as they minister to their own, he compared their work to that of LDS Charities.  He cited the Prophet Joseph Smith's declaration that it is the duty of every member of the Church "to feed the hungry, to clothe the naked, to provide for the widow, to dry up the tear of the orphan, to comfort the afflicted, whether in this church, or in any other, or in no church at all, wherever he finds them," and proceeded to set forth some of what the Church has been doing in terms of humanitarian aid and service for everybody.
I wasn't able to take notes fast enough.
He spoke of four basic areas of official Latter-day Saint charitable effort.  I don't have the formal titles for them, and don't have the subheadings that he used, but here they are in approximate form:
 Dealing with emergencies
"The First 1000 Days" (concentrating on infants and their mothers)
Children in primary school (focusing on school gardens to provide good nutrition for young and crucially developing brains, healthy lunch programs, providing clean water sources [including pure water to be taken home], handwashing stations, etc.)
Individuals with disabilities (including, notably, mobility [roughly 55,000 wheelchairs distributed annually], vision care, and diabetes prevention)
Elder Stevenson has spent a substantial portion of his life in Japan, and he observed that Japanese leaders feel very differently about the Church after seeing its reaction to the 11 March 2011 Tōhoku earthquake (and to the devastating tsunami that resulted from it).  The Church provided far more volunteers ("by multiples") in the wake of that disaster than any other organization, including the Red Cross.  And, while other organizations wrapped up their work fairly quickly and headed home, the Church was still actively helping two years afterwards.
He spoke about situations in many countries — including efforts of which I had not heard to help the Rohingya Muslim refugees who are being driven from Myanmar (the former Burma) — and I wish that I could accurately note all of what he said.  But I'll content myself with a final note about vaccinations in Africa and elsewhere.
Elder Stevenson noted that the Church is partnered with the Bill and Melinda Gates Foundation and UNICEF to vaccinate children.  (This is part of its "First 1000 Days" focus.)  Those organizations can provide medicines and money, but the Church can provide large amounts of labor that they would find impossible to generate.  In fact, he said that they're stunned by the Church's capacity to mobilize volunteers.  I wish that I had caught the number of people who have been vaccinated against tetanus alone.  It was in the many millions.  Since 1999, tetanus deaths have, if I heard correctly, been reduced from 200,000 per year to 39,000 annually.  Elder Stevenson remarked that, obviously, 39,000 deaths remains far too high.  But the number is nearly 85% lower than it was less than two decades ago.)
There's still much to do.  But I loved Elder Stevenson's remarks, and I love to hear what the Church is doing.  Members of the Church should be very proud.  And they shouldn't hesitate to pitch in, whether via additional donations or by volunteering for service missions or in some other way.