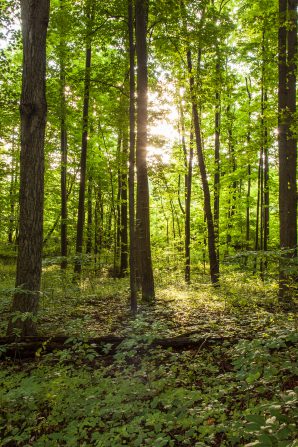 A few days ago, I posted an item in which Joseph Smith described retreating into a grove of trees to pray.  I commented that that account, from much later in his life, seemed to strengthen the plausiblity of the account of his First Vision, since it suggested that such withdrawals into the woods were a habitual practice of his.  Here are some additional notes that touch on that topic:
Further evidence that, whatever else was happening, Joseph Smith was not simply reading from a manuscript, comes from an episode recounted by David Whitmer to William H. Kelley and G. A. Blakeslee in January 1882.
He could not translate unless he was humble and possessed the right feelings towards every one. To illustrate, so you can see. One morning when he was getting ready to continue the translation, something went wrong about the house and he was put out about it. Something that Emma, his wife, had done. Oliver and I went up stairs, and Joseph came up son after to continue the translation, but he could not do anything. He could not translate a single syllable. He went down stairs, out into the orchard and made supplication to the Lord; was gone about an hour—came back to the house, asked Emma's forgiveness and then came up stairs where we were and the translation went on all right. He could do nothing save he was humble and faithful.[1]
One notes here, incidentally, Joseph Smith's apparent propensity to retire to a grove of trees to pray when he faced a serious issue. We see this, too, in the oldest extant letter from him to his wife Emma, dated 6 June 1832, where he remarks that "I have visited a grove which is just back of the town almost every day, where I can be secluded from the eyes of any mortal and there give vent to all the feelings of my heart in meditation and prayer."[2]  The experience of the Eight Witnesses to the Book of Mormon, to be discussed presently, occurred, according to the 1844-1845 manuscript of Lucy Mack Smith's biography of her son Joseph, in "a little grove where it was customary for the family to offer up their secret prayers."[3]  The plausibility of his account of the First Vision is enhanced by such casual details. Whitmer told the same story to a correspondent for the Omaha Herald during an interview on 10 October 1886. The newspaper records of the Prophet that
He went into the woods again to pray, and this time was gone fully an hour. His friends became positively concerned, and were about to institute a search, when Joseph entered the room, pale and haggard, having suffered a vigorous chastisement at the hands of the Lord. He went straight in humiliation to his wife, entreated and received her forgiveness, returned to his work, and, much to the joy of himself and his anxious friends surrounding him, the stone again glared forth its letters of fire.
[4]
[1] Cook, David Whitmer Interviews, 86.
[2] Cited in Anderson, Investigating the Book of Mormon Witnesses, 4.  [Better in Faulring or Jessee?]
[3] Lucy's Book, 455-456.
[4] Omaha Herald (17 October 1886), as reprinted in Cook, David Whitmer Interviews, 199.
***
Last week, owing to a glitch at K-Talk itself — the station, its offices, and its studio are in the process of moving, physically, to a new location — the Interpreter Radio Show was unexpectedly not broadcast.  However, barring further unforeseen circumstances, the show should go on this Sunday night as planned.  And remember that it can not only be received via radio but, anywhere, by means of a personal computer and an internet connection:
Posted from Park City, Utah