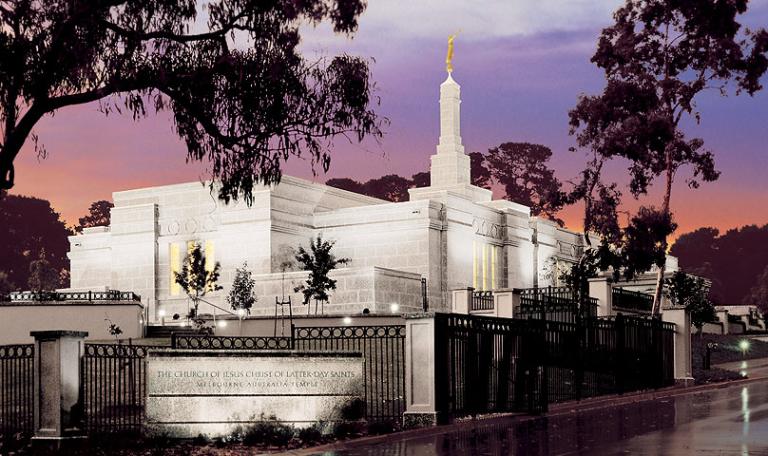 Having appeared in the print edition of the Deseret News and online at LDS Living, this is the latest iteration of my biweekly "Defending the Faith" column:
"What J.R.R. Tolkien's Works Can Teach Us About the Book of Mormon: New Study Reveals"
***
I was involved in meetings last night at the stake center adjacent to the Melbourne Australia Temple.  The first was an early-evening interfaith reception, with food, at which I spoke for a while.  We had guests from at least three different Muslim communities, a representative of the Roman Catholic Church, and so forth.  Some of them were people whom I had met during prior visits.  Australian Latter-day Saints seem to be exceptionally dedicated to interfaith activities and communication, and Latter-day Saints in the greater Melbourne area seem especially so.   See, for instance, this piece about an earlier interfaith meeting:  "A Meaningful Interfaith Conference in Victoria."  (The fourth of the accompanying eight photographs, by the way, is a close-up of Chris Stuart and his wife Alayne, with whom we had dinner at the home of Elder and Sister Robert Dudfield on Wednesday night.)
I've been to Melbourne at least two or three times before.  In 2005 or 2006, I think, while I was in Melbourne for other reasons, I actually met with the committee that was trying to decide between — if I recall correctly — Melbourne, Singapore, and Beijing for the next meeting of the quinquennial international Parliament of the World's Religions.  In 2009, I participated in the Melbourne Parliament, in which local leaders and members of the Church of Jesus Christ of Latter-day Saints were deeply involved.  (Very notably, too, a large local choir of Polynesian members were an unexpected smash hit at the meetings.)
I very much enjoyed seeing some of my old Melburnian friends again — including David Cray, and his father, Graeme Cray, and J. Murray Lobley (these latter two have both presided over the Melbourne Australia Temple), and Dennis Curyer, who, together with his wife, worked for a year in Beirut as an unpaid volunteer for the old Neal A. Maxwell Institute for Religious Scholarship, when I was in its leadership and when it was engaged in digitizing ancient and medieval religious manuscripts.
After the interfaith gathering, I spoke to a large audience of missionaries and Young Single Adults regarding the Witnesses to the Book of Mormon and related matters.  Both the chapel and the cultural hall of the rather large stake center were pretty much full.
It was fun to speak there again, and, among other things, to meet Peter Vidmar, who, two and a half years ago, replaced my friend Cory Maxwell as president of the Australia Melbourne Mission.
***
Here's some additional Church news out of Australia, including two items (the last two) that illustrate, yet again, Christopher Hitchens's brilliant insight that "religion poisons everything":
"Religious Learning Enhances Secular Learning"
"Agricultural School Receives Helping Hands"
"Knitted Dolls from Hobart Delight Families in Africa"
Posted from Leura, New South Wales, Australia