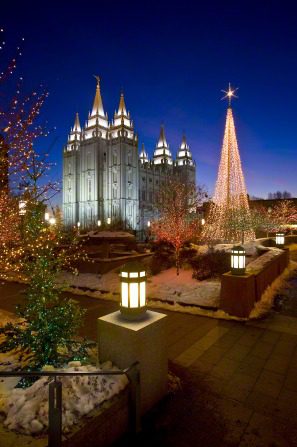 Here's a rather moving reminder of, and an invitation to, the 2018 First Presidency Christmas devotional, which takes place this weekend:
https://www.lds.org/church/events/2018-first-presidencys-christmas-devotional?lang=eng&_r=1
And, by the way, you can watch the First Presidency devotional and still listen to the Interpreter Radio Show!
***
We were in Cairns just a few days ago. Right on the Esplanade, as a matter of fact. By now, given the change in time beween Australia and the United States, this event has already occurred. I hope it went marvelously well:
"Cairns Preparing to 'Light the World'"
And I hope that Latter-day Saints worldwide will join in this year's "Light the World" campaign.
***
From the astoundingly prolific Jeff Lindsay, of Shanghai:
"The Last Section of the Words of Mormon May Be Part of the Book of Mosiah"
***
"What Role Should Scholarship Play in Studying the Book of Mormon?"
***
A helpful and interesting response from the irreplaceable Robert Boylan of Ireland to an argument against the Latter-day Saint view of God that I myself have run into on several occasions:
"Psalm 139:7 and Latter-day Saint Theology"
***
"First Presidency Honors the Life of US President George H. W. Bush"
***
Bill Hamblin and I published the following column on 14 December 2013:
Owing to the huge immigration of villagers into rapidly growing cities caused by the Industrial Revolution, traditional observance of Christmas had been declining in England since the late 1700s. Leaving their ancestral customs and social networks behind, these new urban dwellers were often poor, and they worked long and exhausting hours in increasingly mechanized factories.
Moreover, their employers — of whom the fictional Ebenezer Scrooge is a fairly typical representative in this respect — weren't especially inclined to grant them paid leave on Christmas Day. Time is money.
Writers such as Sir Walter Scott, in 1808, and the American Washington Irving, in 1820, lamented the decline of English country Christmases. But others welcomed it. Conservative reformed Protestants, for example, regarded Christmas as unbiblical, dangerously Catholic ("Christ's mass") and even immoral.
In fact, during the brief interval when they ruled England under Oliver Cromwell in the mid-1600s, they actually abolished it — which isn't altogether surprising, given the drunkenness, hooliganism, extravagance and sexual license that (rather like some Mardi Gras festivities today) often accompanied rural English celebrations of Christmas in the 16th and 17th centuries.
By the 1840s, however, many Englishmen were growing nostalgic for "jolly olde England" as it had existed before the arrival of the railroad and the dirty, noisy factories (William Blake's "dark satanic mills") of rising industrial Britain. Charles Dickens, entering into middle age, was plainly among them. He wrote extensively and often about Christmas, far beyond the famous 1843 tale of Scrooge and those tutoring ghosts; his enormous audience demanded a Christmas article or story from him every year.
Dickens' descriptions of Christmas plainly rest upon idealized memories of his own childhood, which was, actually, partially spent in a workhouse while his father languished in Southwark's Marshalsea debtors' prison. (Many of his stories are, in part, autobiographical.)
A hearty meal of goose or turkey, hot wine or cider, games, dancing, sleighs, carriages, country inns, good cheer and gifts, a loving family gathered around a blazing Yule log while all is cold outside — these are images of an essentially early Victorian rural Christmas that Dickens bequeathed to us and that still, for many, form the iconic visual image of the holiday. Even our common expectation that a proper Christmas greeting card depict snow may rest, to some extent, upon the fact that, rather unusually for his native climate, his first eight childhood Christmases were white.
Curiously, Christmas cards themselves seem to have their origin at about the same time, although they didn't really catch on and go into commercial production until about four decades later. The story is well documented: In 1843, Sir Henry Cole, too busy, he thought, to be able to write substantial Christmas letters to his friends, commissioned an artist to design decorated cards for him on which he would write brief notes. Sir Henry ordered a thousand of them — as it happened, many more than he needed — and sent the remainder to a stationer's shop on London's Old Bond Street for sale.
Perhaps strangely to us today, the celebrations in Dickens's "Christmas Carol" feature no Christmas trees. German-born Queen Charlotte introduced this new element of "traditional" Christmas into the English royal household in 1800, but its popularity soared only after December 1840, when Queen Victoria's consort, Prince Albert, also from Germany, set up and decorated several trees in the royal palace. (Victoria and Albert had been married the previous February.) "That pretty German toy," as Dickens would eventually call it, fit in very nicely with the holly and the mistletoe that had formed part of mid-winter celebrations in Britain since the fifth century.
One of the author's sons later recalled that, for Dickens, Christmas was "a great time, a really jovial time, and my father was always at his best, a splendid host, bright and jolly as a boy and throwing his heart and soul into everything that was going on. . . . And then the dance! There was no stopping him!"
It's very largely thanks to Charles Dickens and his England that, despite the historical origins of Christmas — probably in the spring and certainly in a Mediterranean climate — modern Americans tend to celebrate Jesus Christ's Nativity as an idealized early Victorian mid-winter family feast. But there's much good in the holiday customs he helped to preserve and spread, because, as Dickens himself wrote of the repentant Ebenezer Scrooge, "he knew how to keep Christmas well if any man alive possessed the knowledge."