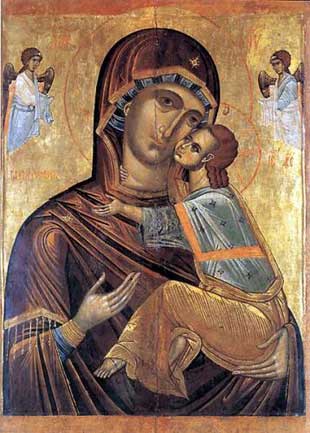 Matthew Wheeler kindly calls the following item to my attention, which reminds me of an incident that really needs to be better known in the West because of what it reveals about Muhammad's attitude toward Mary and Jesus:
"The Prophet Muhammad Safeguards Jesus and Mary's Icons in the Kaba: Traditions that can be traced back to the early formative period of Islam show reverence and not disdain towards Christian iconography, particularly icons of Jesus and Mary."
It reminds me, just a bit, of two points made in the April 2018 issue of the Ensign by a writer whom I trust completely on the subject of Islam:
"Strikingly, Mary, the mother of Jesus, is mentioned 34 times in the Qur'an, as compared with 19 times in the New Testament. (She is, in fact, the only woman named in the Qur'an.) . . .  Muslims believe Jesus to have been a sinless prophet of God, born of a virgin and destined to play a central role in the events of the last days. He is mentioned frequently and reverently in the Qur'an."
***
Gabriela Walther-Bleck has called my attention to a comment, presumably from a member of the Church, on the subject of Islam:
"Meiner Ansicht nach ist dieses "andere Evangelium" der Koran.  Jesus wird da als Sohn Gottes und Erlöser geleugnet und somit ist Muhammad demnach der falsche Prophet, der dem Antichristen den Weg bereiten wird, laut Offenbarung."
(My translation:  "In my opinion, this 'other Gospel' is the Qur'an.  There, Jesus is denied as the Son of God and the Redeemer and, thus, Muhammad is the false prophet who will prepare the way for the Antichrist according to revelation.")
But all non-Christian religions — including Judaism — deny that Jesus is the divine Son of God and the Redeemer.  That's essentially what makes them non-Christian.
Islam differs from those other non-Christian religions, however, in giving Jesus a very high status.  While, officially, Judaism has little to say about Jesus, and while a number of modern Jewish leaders have spoken appreciately and positively of him, there are lots and lots of old Jewish sources that are harshly critical of both Christianity and Christ himself.  By contrast, in official Islam Jesus is regarded as the sinless son of a virgin mother, as a great prophet of God whose dramatic return in the latter days will be one of the harbingers of the final judgment and the end of times.
Yes, Islam denies that he is divine, and, yes, Islam denies that he atones for our sins.  But I suppose it's a matter of how Christians want to look at this:  Is the glass half empty, or is it half full?
For the German-speaking friend mentioned above, I recommend "Einblicke in den Islam," in the German Liahona for April 2018.