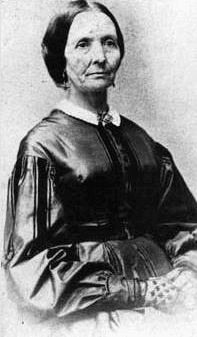 This poem, by Eliza R. Snow (1804-1887), appeared in the official Latter-day Saint hymnal as late as the 1941 edition but disappeared thereafter.  I wish it had not, because I think its message very important.
When I was a naïve undergraduate, we laughed about some people who, we joked, appeared to believe in the injunction "Think not, when you gather to Zion."  As one professor (who subsequently served, among many other things, as a General Authority) quipped, "In the world, they have questions but no answers.  In Zion, we all too often have answers but no questions."
I still regard that as a problem.  Since those days, though, I've come to take Sister Snow's own point much more seriously.
1. Think not when you gather to Zion,
Your troubles and trials are through,
That nothing but comfort and pleasure 
Are waiting in Zion for you.
No, no, 'tis designed as a furnace,
All substance, all textures to try,
To burn all the "wood, hay, and stubble,"
The gold from the dross purify.
2. Think not when you gather to Zion,
That all will be holy and pure;
That fraud and deception are banished,
And confidence wholly secure.
No, no, for the Lord our Redeemer
Has said that the tares with the wheat
Must grow till the great day of burning
Shall render the harvest complete.
3. Think not when you gather to Zion,
The saints here have nothing to do
But to look to your personal welfare,
And always be comforting you.
No, those who are faithful are doing
What they find to do with their might;
To gather the scattered of Israel
They labor by day and by night.
4. Think not when you gather to Zion,
The prize and the victory won.
Think not that the warfare is ended,
The work of salvation is done.
No, no, for the great prince of darkness
A tenfold exertion will make,
When he sees you go to the fountain,
Where freely the truth you may take.
During my teenage years in southern California, when my beloved older brother went off to spend his senior year at Brigham Young University and very much under his influence, I developed a deep and passionate love for BYU and for the idea of BYU.  And, for all of the human frailty that I saw during my first nearly three decades on the faculty, that passionate commitment continued.  It was seriously damaged by certain events in 2012 and thereafter, but, considerably sadder and perhaps somewhat wiser, it persists.
One of the most uninspired mistakes that I ever saw committed at BYU, though, one of the most signal cases of an absence of vision, was its failure to retain my former student — and my former colleague in the Middle Eastern Texts Initiative — Glen Cooper, as a member of the faculty in the BYU History Department.  Dr. Cooper is a world-class scholar in an extraordinarily demanding and difficult field that requires the combination of a multitude of unusual skills.  Unfortunately, it's precisely his multidisciplinary expertise, I suppose, that makes him seem to some an awkward fit in the artificially fragmented world of current academia.
Recently, he made a presentation at the David M. Kennedy Center at Brigham Young University:
"Memory and Erasure in the Story of the West: Where Have All the Muslims Gone?," by Dr. Glen Cooper, discusses how the Islamic World has been erased from the foundational strictures [? sic] of the Western world. Glen Cooper graduated from Brigham Young University in physics and astronomy, and continued his academic career by studying philosophy at Oxford. Later, Dr. Cooper went on to earn his Ph.D. in the history of Islamic science and culture from Columbia University. Additionally, Dr. Cooper has worked on the Islamic Translation series at the BYU Maxwell Institute, taught Middle Eastern history at BYU, and taught history and religion classes at the Claremont Colleges in greater Los Angeles. He has also taught Greek, Byzantine, Jewish, and South Asian history courses. Dr. Cooper is very widely published, especially on the topic of Islamic science, and currently resides in Springville, Utah, where he is working away on his next book."
You can watch Dr. Cooper's Kennedy Center lecture here:
"Memory and Erasure in the Story of the West: Where Have All the Muslims Gone?"