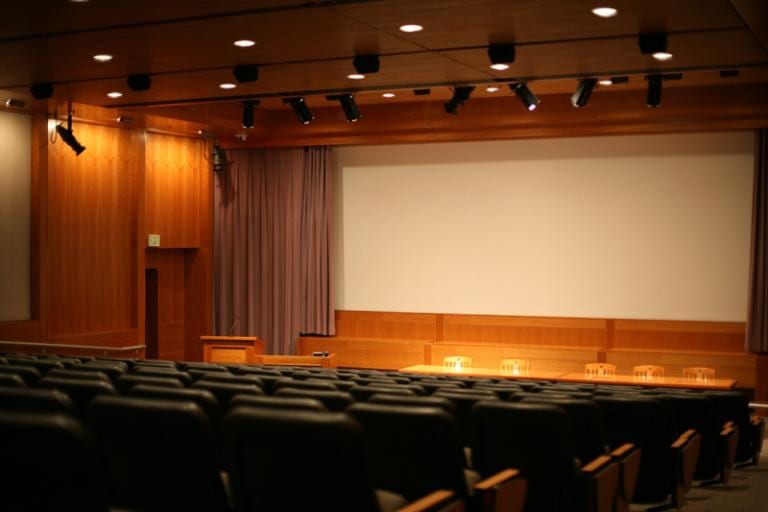 One of the very good things about living near a university or college is the availability of very good things — e.g., concerts, sporting events, lectures, symposia, foreign cinema, theater, superb libraries — at extremely reasonable prices (if not altogether free).
A fun thing at Brigham Young University is the free monthly classic film series that's held in the auditorium of the Harold B. Lee Library.  On 22 March, the series will screen John Ford's 1952 Academy Award winning romantic comedy The Quiet Man, set in Ireland and starring Maureen O'Hara and John Wayne.  On 12 April, the series will show the 1938 Frank Capra romantic comedy You Can't Take It With You, also an Academy Award winner, starring Jean Arthur, Lionel Barrymore, and a very young Jimmy Stewart.  (Given the title, it's apparently being shown in honor of Tax Day, 15 April.)  The first movie starring the Beatles, A Hard Day's Night, will be shown on 17 May.
Tonight, though, we met with our friends Stephen and Shirley Ricks, Ed and Eileen Snow, and Royal and Sirkku Skousen at the library to watch the 1963 film Charade, another romantic comedy, starring Cary Grant and Audrey Hepburn.  It was thoroughly enjoyable, and it still holds up really well.  It's not just a romantic comedy, though.  It's a thriller with lots of twists.  One film critic famously described it — fairly, I think — as "the best Hitchcock movie that Hitchcock never made."
Flying home from Virginia on Wednesday also provided me with some good movie-watching time, and I used it to see two films, demonstrating thereby my eclectic (or perhaps simply bad) taste.
First, I watched Jennifer Garner in the oddly named 2018 film Peppermint.  It didn't get very good critical reviews, but I enjoyed it — partly because it's satisfying to see really bad characters taken down, partly because flying is so boring and movies are a great way to pass the time, and partly, no doubt, because, as one or two of my critics never tire of pointing out, I'm a thuggish, mean-spirited, and brutal person.
Thereafter, changing pace rather dramatically, I watched the 2018 documentary RBG, about Justice Ruth Bader Ginsburg.  I enjoyed it very much.  I disagree very often with Justice Ginsburg on political and legal issues — though I think her work in combating unreasonable gender discrimination through such cases as Reed v. Reed, 404 U.S. 71 (1971), Frontiero v. Richardson, 411 U.S. 677 (1973), and Weinberger v. Wiesenfeld, 420 U.S. 636 (1975) was justified — but I find her admirable in many regards, and a sympathetic personality.  Moreover, I simply find people really interesting, and I love biographies of persons great and obscure.  I liked RBG and recommend it.  And I was really pleased that the film showed Justice Ginsburg's strong personal friendship with the late great conservative Justice Antonin Scalia.