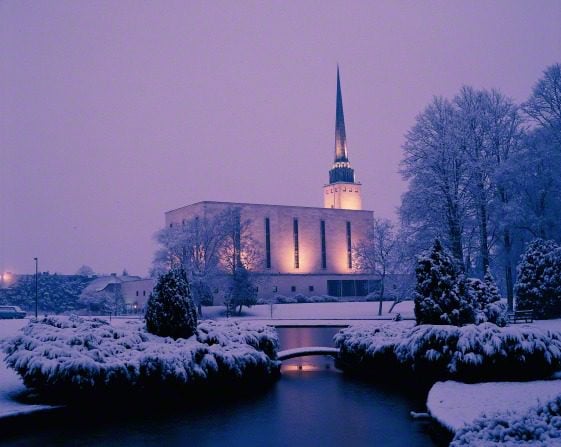 The 17 March 2019 broadcast of the Interpreter Radio Show is now available for your edification and listening pleasure. It will also be included in our podcast feed (https://interpreterfoundation.org/feeds/podcast).  The hosts for this episode of the program were Bruce Webster and Mike Parker, who discussed "Come Follow Me" lesson 14 as well as the changes that have taken place under the guidance of President Russell M. Nelson and the new temple in Rome.  You can listen to the program here:
https://interpreterfoundation.org/interpreter-radio-show-march-17-2019/
***
If you just want to listen to the audio roundtable on Come, Follow Me New Testament Lesson 14
"Thou Art the Christ," it's been extracted for your convenience and is available here as a stand-alone item:
https://interpreterfoundation.org/cfm-audio-roundtable-come-follow-me-new-testament-lesson-14/
Again, the discussants are Bruce Webster and Mike Parker, and they cover Matthew 16-17, Mark 9, and Luke 9.
***
"The Tabernacle Choir's Latest Album Hits No. 1 on the Billboard Charts"
***
From about a week ago:  "Romney calls out Trump's attacks on 'heroic' McCain"
From the San Francisco Chronicle (Tuesday, 26 March 2019):  "Romney's Mormon religion helps explain his criticism of Trump"
***
According to Bloomberg, some people are so worried about Brexit that they're resorting to the almost unthinkably extreme measure of seeking guidance from practices associated with the Church of Jesus Christ of Latter-day Saints:
"Brexit Panic Leads to Some Desperate Measures: From hoarding tinned fruit and vegetables in a shed to stocking up on dog food, the fear of leaving the EU without a deal is growing for these people."
***
And, speaking of extremes, Missouri wrestles with the possibility that the Book of Mormon could potentially be taught in the state's public school classrooms:
"Missouri House votes to allow Bible courses in public school"
"Jefferson City religious leader weighs in on 'Bible bill' alterations"
***
We've been hearing so much over the past few years about the Book of Mormon musical that we might almost forget that there was an earlier pair of hit Broadway plays that exploited the ridiculous and quite unfashionable Latter-day Saints as a principal dramatic tool.
And, O frabjous day! Callooh! Callay!, those two theatrical pieces are now playing again, in repertory, at the Cygnet Theatre in Old Town San Diego — which is to say, not far from the Mormon Battalion Historic Site visitors' center — and at least one area Jewish writer really likes them:
"'Angels in America' is deeply moving"
Years ago, during the time that I spent a couple of summer months in an NEH faculty seminar at Princeton University, the duet of plays (full title: Angels in America: A Gay Fantasia on National Themes) was being performed on Broadway.  So my wife and I went together to see the first one:  Angels in America: Millennium Approaches.
It was roughly as contemptuous as I had expected it to be.
A short while thereafter, my wife went up alone to New York City to see the second part:  Angels in America: Perestroika.  (I can't remember why, but I was unable to go that night.)  During the intermission, a probably Jewish fellow sitting in the adjacent seat turned to her and asked "Have you ever been to Salt Lake City?"  And then, without waiting for her to answer, he went on to say "I have.  And that's exactly what they're like!"
When she told me about it later that evening, I was very glad that I hadn't been there.  I might have had something quite sharp to say about how Jews, of all people, ought to know better than to laugh when religious minorities are mocked and disrespected.
However, I don't want to paint with a broad brush here.
I've been told by reliable sources that many, many years ago, when BYU's Jerusalem Center for Near Eastern Studies was still under construction (and extremely controversial), the notorious anti-Mormon charlatan Ed Decker took his sensationalistic propaganda film The God Makers to Israel and showed it to a committee of the Knesset, the Israeli parliament.  When the film ended, the committee's chairman remarked simply that he had seen similar materials about Jews.