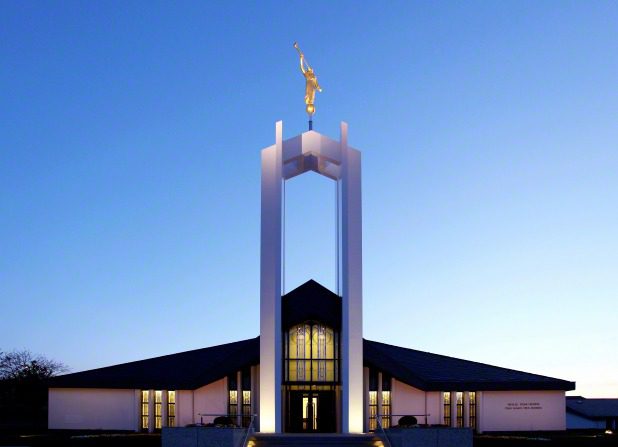 I realize that the overwhelming majority of my readers (there are perhaps as many as four of you out there) aren't German speakers. But some are. So, for the record (because it will probably have no other use) and for the possible interest of one or two — posting this costs me nothing, after all — I share the text of remarks that I recorded for presentation at an "Education Day," oriented to young Latter-day Saints, that was held on Saturday, 9 March 2019, in a chapel located adjacent to the Freiberg Germany Temple. That temple stands in what was once the German Democratic Republic, or "East Germany." I'm told that my comments were used, after the stake president's welcome and some preliminary remarks, as something of a brief introduction to the day's program. That's how I had written them, so I was pleased.
Meine lieben Geschwister:
Es ist mir eine Freude, an dieser Versammlung teilnehmen zu dürfen und Ihnen einige Worte zu übermitteln.
Wir erfahren jetzt im Westen—vielleicht besonders in Europa aber auch in den Vereinigten Staaten und Kanada und sonstwo unter den sogenannten entwickelten Ländern—oftmals eine wesentlich nachchristliche Kultur, sogar eine entgottete Welt.
Diese funktionell atheistische Umwelt mag offensichtlich feindlich erscheinen. In der Schule, von der geistigen Elite, an der Universität, am Arbeitsplatz, unter Freunden, kann unser Glaube an Gott, Christus, die Wiederherstellung des Evangeliums, und moderne Propheten eine Unterhaltung leicht ins Stocken bringen. Ihm wird allzu oft mit Spott und Verachtung begegnet.
Eine Welt in der die traditionellen Verbindungen zu den Landeskirchen und zu den ererbten religiösen Begriffen sich gelockert haben, bietet aber auch wichtige Möglichkeiten. Denn eine Welt ohne Gott ist notwendigerweise auch eine leere Welt ohne endgültige Bedeutung, ohne Zweck. Sie stellt keinen objektiven Moralkodex zu Verfügung. Aus ihr kommt keine Hoffnung für ein Leben nach dem Tod, keine letzgültige Hoffnung für die, die trauern, für die Dauerinvalidität, für die Opfer der tödlichen Erkrankung oder Gewalt, der Tyrannei, des Völkermords.
In so einer leeren Welt, hungern und dürsten viele immer noch nach der Gerechtigkeit. Obwohl sie es vielleicht nicht wissen, viele suchen Gott.
Wir, die wir eine große Botschaft der Hoffnung bekommen haben—die größtmögliche Hoffnungsbotschaft—haben auch die Verpflichtung, diese Botschaft mit anderen zu teilen. Und sie ist eine herrliche Botschaft.
Lukas, Kapitel 4, beschreibt den Heiland bei seinem ersten Auftreten in Galiläa, kurz nach seiner Taufe und Versuchung:
So kam er auch nach Nazaret, wo er aufgewachsen war, und ging, wie gewohnt, am Sabbat in die Synagoge. Als er aufstand, um vorzulesen, reichte man ihm die Buchrolle des Propheten Jesaja. Er öffnete sie und fand die Stelle, wo geschrieben steht: Der Geist des Herrn ruht auf mir; denn er hat mich gesalbt. Er hat mich gesandt, damit ich den Armen eine frohe Botschaft bringe; damit ich den Gefangenen die Entlassung verkünde und den Blinden das Augenlicht; damit ich die Zerschlagenen in Freiheit setze und ein Gnadenjahr des Herrn ausrufe. Dann schloss er die Buchrolle, gab sie dem Synagogendiener und setzte sich. Die Augen aller in der Synagoge waren auf ihn gerichtet. Da begann er, ihnen darzulegen: Heute hat sich das Schriftwort, das ihr eben gehört habt, erfüllt.
Seinen Aposteln hat Christus gesagt, laut Matthäus 10:
Geht und verkündet: Das Himmelreich ist nahe! Heilt Kranke, weckt Tote auf, macht Aussätzige rein, treibt Dämonen aus! Umsonst habt ihr empfangen, umsonst sollt ihr geben.
Denselben Auftrag haben wir in unserer Zeit von ihm, von Jesus Christus, bekommen—in einigen Fällen vielleicht sogar buchstäblich:
In Jesaja 43:10 sagt der Herr: "Ihr seid meine Zeugen."
In Mosiah 18 beschreibt der Prophet Alma diejenigen, die sich taufen lassen als solche die
den Wunsch [haben], in die Herde Gottes zu kommen und sein Volk genannt zu werden, und willens [sind], einer des anderen Last zu tragen, damit sie leicht sei, ja, und willens [sind], mit den Trauernden zu trauern, ja, und diejenigen zu trösten, die des Trostes bedürfen, und allzeit und in allem und überall, wo auch immer [sie sich] befinden [mögen], selbst bis in den Tod, als Zeugen Gottes aufzutreten.
Können wir erwarten, dass alle mit uns und mit unserer Botschaft zufrieden sein werden? Leider nicht.
Der Apostel Petrus hat das schon persönlich gewusst. Aus seiner eigenen Erfahrung hat er geschrieben:
Aber auch wenn ihr um der Gerechtigkeit willen leidet, seid ihr selig zu preisen. Fürchtet euch nicht vor ihnen und lasst euch nicht erschrecken, heiligt vielmehr in eurem Herzen Christus, den Herrn! Seid stets bereit, jedem Rede und Antwort zu stehen, der von euch Rechenschaft fordert über die Hoffnung, die euch erfüllt. (1 Petrus 3)
Ihr seid—wir sind—seine Zeugen.
Glücklicherweise haben wir Mitzeugen für das Wirken des Heilands und die Geschehnisse der Wiederherstellung des Evangeliums, denn, wie der Apostel Paulus vor dem Statthalter Festus and König Agrippa gesagt hat, "das alles hat sich ja nicht in irgendeinem Winkel zugetragen." (Apostelgeschichte 26:26)
An die Korinther schrieb Paulus, bezüglich der Auferstehung Christi,
Ich erinnere euch, Brüder und Schwestern, an das Evangelium, das ich euch verkündet habe. Ihr habt es angenommen; es ist der Grund, auf dem ihr steht. Durch dieses Evangelium werdet ihr gerettet werden, wenn ihr festhaltet an dem Wort, das ich euch verkündet habe, es sei denn, ihr hättet den Glauben unüberlegt angenommen.
Denn vor allem habe ich euch überliefert, was auch ich empfangen habe: Christus ist für unsere Sünden gestorben, gemäß der Schrift, und ist begraben worden. Er ist am dritten Tag auferweckt worden, gemäß der Schrift, und erschien dem Kephas, dann den Zwölf.
Danach erschien er mehr als fünfhundert Brüdern zugleich; die meisten von ihnen sind noch am Leben, einige sind entschlafen.
Danach erschien er dem Jakobus, dann allen Aposteln.
Zuletzt erschien er auch mir, gleichsam der Missgeburt.
Denn ich bin der Geringste von den Aposteln; ich bin nicht wert, Apostel genannt zu werden, weil ich die Kirche Gottes verfolgt habe. Doch durch Gottes Gnade bin ich, was ich bin. (1 Kor 15)
In unseren Tagen haben wir nicht nur Äußerungen von Joseph Smith—sein Zeugnis—sondern auch die zusätzlichen Zeugnisse von vielen anderen, die die Platten und die Engel und selbst Jesus Christus gesehen haben und die Stimme Gottes gehört haben. Wir haben nicht nur alte Geschichte. Wir haben lebendige Propheten und Apostel. Und wir können persönlich sicher werden, dass Gott existiert, dass er heute spricht und wirkt, dass die Welt und das Leben bedeutsam sind, dass der Tod nicht das Ende ist, dass Böses oder Sinnlosigkeit nicht das letzte Wort ist.
Wir sind berufen, seine Zeugen zu sein. Darum müssen wir lernen, wie wir diese Berufung am Besten in Wirklichkeit umsetzen können. Es freut mich deshalb, dass Sie alle hier sind.
Im Namen Jesu Christi, Amen.
I'm grateful to my friends Prof. Dr. Hans-Wilhelm Kelling (for reading through what I had written and assuring me that it wasn't an assault upon German literacy and culture) and Tom Pittman (for helping me to record and transmit my remarks).