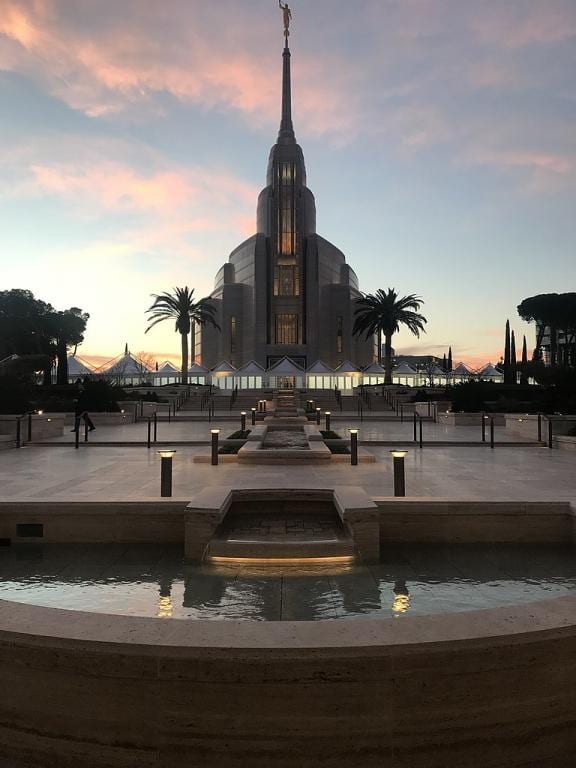 Jim Toronto, a friend and colleague at Brigham Young University, called me just a few minutes ago, responding to an email that I had sent him. He is an Arabist and Islamicist, and a former president, from 2015 to 2017, of the Central Eurasian Mission, based in Istanbul and covering Turkey, Central Asia and Azerbaijan. But I should have guessed, since he's also a former president, from 2007 through 2010, of the Italy Catania Mission and the co-author of Mormons in the Piazza: History of The Latter-day Saints in Italy (2017), that he would be calling from Rome.
It seems that big things are underway there in Italy this weekend. (See "A prophet and a pope, and all of the living apostles.") Jim tells me that roughly half of the Quorum of the Twelve were on his flight. In a sense, right now, the headquarters of the Church of Jesus Christ of Latter-day Saints are in Rome.
***
Commenting upon his visit with Pope Francis, President Russell M. Nelson tweeted:
Today President M. Russell Ballard and I met with His Holiness Pope Francis at the Vatican. He is a wonderful, gracious man. We have much in common. The differences in doctrine are real—and they're important—but they're not nearly as important as the things we have in common.
***
In this context, you might enjoy an official 1:14-minute Church video:
"On the Eve of the Rome Temple Dedication, Prophet Encourages Italian Youth"
***
"A Surprising Non-LDS Witness of the Plates: Lucy Harris"
***
I should have posted this yesterday, but I missed it:
"On International Women's Day 2019, a Message of Love From Africa"
***
Is President Nelson, as perhaps a few members might be worrying and as some critics are definitely (even as I write) mockingly claiming, cozying up to "the great and abominable church of the Devil"?
Not even remotely, in my judgment. The Catholic Church isn't "the great and abominable church."
And here's an article published slightly more than two decades ago — during the great days of the Foundation for Ancient Research and Mormon Studies (FARMS) — by the late Stephen Robinson that might help to put that matter in context:
"Nephi's 'Great and Abominable Church,'" Journal of Book of Mormon Studies 7/1 (1998): 32–39, 70
"In 1 Nephi 13–14, Nephi describes major characteristics of the great and abominable church: it persecutes and slays the Saints of God; it seeks wealth and luxury; it is characterized by sexual immortality; it has excised plain and precious things from the scriptures; it has dominion over all the earth; and its fate is destruction by a world war. Nephi's vision, known as an apocalyptic vision in biblical literature, corresponds well to features of Babylon as described in the apocalyptic Revelation of John (Revelation 17). Clearly, the earliest apostate church and the great and abominable church are the same. A suggested description for this phenomenon, avoiding a denominational name, is hellenized Christianity."