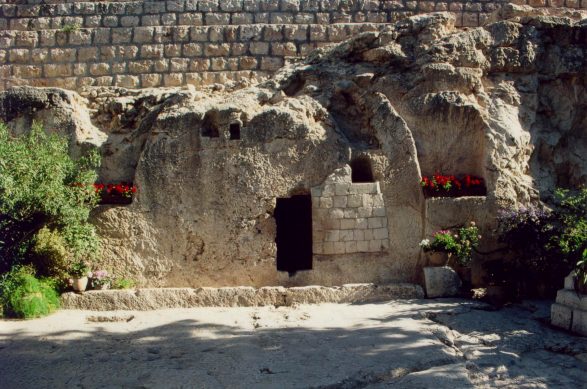 It's that time again.  It's time to post one of my favorite poems, which is especially well-suited to this season of the year.  It's the late poet and novelist John Updike's "Seven Stanzas at Easter."  Updike (1932-2009) was a two-time winner of the National Book Award and a two-time winner of the Pulitzer Prize for fiction.
In order to understand the poem completely, you need to know the noun remonstrance (re-MON-strance), which denotes "a forcefully reproachful protest":
Make no mistake: if he rose at all
It was as His body;
If the cell's dissolution did not reverse, the molecule reknit,
The amino acids rekindle,
The Church will fall.
It was not as the flowers,
Each soft spring recurrent;
It was not as His Spirit in the mouths and fuddled eyes of the
Eleven apostles;
It was as His flesh; ours.
The same hinged thumbs and toes
The same valved heart
That—pierced—died, withered, paused, and then regathered
Out of enduring Might
New strength to enclose.
Let us not mock God with metaphor,
Analogy, sidestepping, transcendence,
Making of the event a parable, a sign painted in the faded
Credulity of earlier ages:
Let us walk through the door.
The stone is rolled back, not papier-mache,
Not a stone in a story,
But the vast rock of materiality that in the slow grinding of
Time will eclipse for each of us
The wide light of day.
And if we have an angel at the tomb,
Make it a real angel,
Weighty with Max Planck's quanta, vivid with hair, opaque in
The dawn light, robed in real linen
Spun on a definite loom.
Let us not seek to make it less monstrous,
For our own convenience, our own sense of beauty,
Lest, awakened in one unthinkable hour, we are embarrassed
By the miracle,
And crushed by remonstrance.
Updike's poem, in part, reminds me of a comment from the Prophet Joseph Smith:
"The fundamental principles of our religion are the testimony of the Apostles and Prophets, concerning Jesus Christ, that He died, was buried, and rose again the third day, and ascended into heaven; and all other things which pertain to our religion are only appendages to it."  (History of the Church, 3:30; from an editorial published on page 44 in the Elders' Journal, July 1838; Joseph Smith was the editor of the periodical)
Posted from San Diego, California