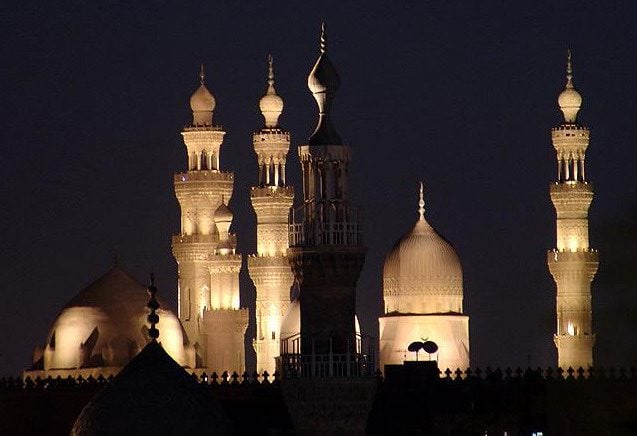 Flying into Cairo again this evening, I couldn't help but contrast our experience tonight with the first time that my wife and I came to the city, roughly 41 years ago.  (Growing old has taken far less time than I had expected!)  I had passed through Cairo for a few days with a student group more than half a year earlier, en route to a study abroad experience in Jerusalem, but now I was arriving with a new wife, in order to study on my own.
In those pre-Internet days, we didn't yet have a place to stay or, really, any clear idea of what we were going to do.  And Cairo was, in a sense, much further away back then; mail was slow and unreliable, and the Egyptian telephone system was often barely functional.
During the entire four years that we ended up living in Egypt, we had two telephone conversations back home:
The first came in the wake of a telegram from my brother indicating that my father had suffered a heart attack.  I had to go to a government post office in order to sign up for an international call; it took me roughly twenty-four hours to get through on the phone to my brother in order to find out whether my Dad was still alive.  (Mercifully, he was.)
The second telephone call was to announce the healthy birth of our first child.
In retrospect, I'm astonished that our parents were so calm about our going to Egypt.  It was a wild and crazy thing to do, but it was a powerfully formative experience for us.
As I say, we had no real plans beyond arriving at the Cairo airport, which, in those days, was much more like one giant chaotic warehouse than the rather elegant multi-terminal facility that tourists encounter now.  We were going to try to find a hotel, and then figure things out from there.
Fortunately, my former teacher in Jerusalem (now my virtually life-long friend) S. Kent Brown was waiting for us at the airport — to our enormous surprise and relief — and he took us to his family's apartment south of Cairo and put us up for a week or two while we found housing of our own.  That was an example of his characteristically remarkable, stunning kindness and generosity — bestowed on what seems even to me, in the rear-view mirror, a couple of wildly, daringly, foolishly, even perhaps irresponsibly adventurous young people.
Tonight, though, we arrived at a very beautiful airport and were able to walk to a very beautiful airport hotel.  Downright civilized, I must say.  And what a complete contrast to the way things were in August 1978.
Posted from Cairo, Egypt