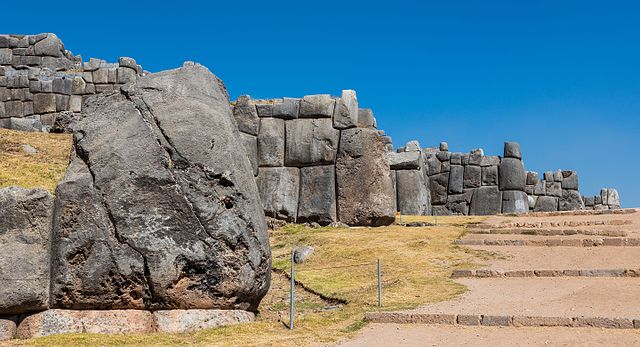 We headed out this morning to look at several very important Inca archaeological sites, beginning with the massive citadel or fortress — our local guide consistently called it a temple — of Sacsayhuamán or Saqsaywaman (or just about any roughly similar spelling that you care to choose; it sounds something like "sexy woman") to the north of Cusco. I'm not sure exactly on what grounds it has been pronounced a fortress. The massive walls and the hilltop location would certainly be consistent with such a role, but it may in fact have been a temple for all I know. There are no inscriptions; the Inca had no written language.
Sacsayhuamán is enormous, and enormously impressive, although its foundations are invisible underground and although it is only a fraction of its former self. (Much of the stone with which colonial Cusco was built was "quarried" at Sacsayhuamán; even into modern times, says our guide, before tourism came to Peru and made the structure's preservation financially advantageous, at least one mayor of Cusco was charging people fifty dollars per truckload of stone when they came and carried it away). The largest of the stones from which Sacsayhuamán was constructed has been estimated to weigh between almost 130 tons and 200 tons. No mortar was used in building Sacsayhuamán, but the stones were so closely fitted together that, as is famously said, a piece of paper cannot be inserted between them. Moreover, Sacsayhuamán has survived several massive earthquakes that laid waste to much of colonial and then modern Cusco.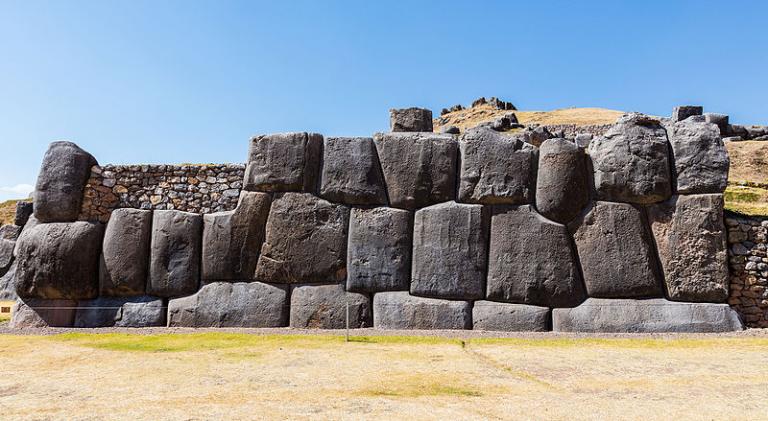 Pedro Pizarro, a brother of the same Francisco Pizarro who murdered the last Inca ruler and destroyed the empire, described the structure, which was still intact in his day:
"On top of a hill they [the Inca] had a very strong fort surrounded with masonry walls of stones and having two very high round towers. And in the lower part of this wall there were stones so large and thick that it seemed impossible that human hands could have set them in place . . . they were so close together, and so well fitted, that the point of a pin could not have been inserted in one of the joints. The whole fortress was built up in terraces and flat spaces." The numerous rooms were "filled with arms, lances, arrows, darts, clubs, bucklers and large oblong shields. . . . there were many morions. . . . there were also . . . certain stretchers in which the Lords travelled, as in litters."
Pedro Pizarro was an eyewitness, and his description is very valuable — although it must be said that he himself (from what little I've read about him) was no better, morally speaking, than his treacherous brother Francisco. The Spanish conquest of Peru does not represent Christianity at its finest.
Posted from Cusco, Peru