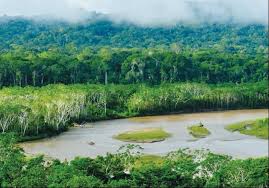 This morning, we attended sacrament meeting at a small barrio or ward located just a few blocks from our hotel in Iquitos.  (Our non-LDS local guide says that there are 23 LDS meetinghouses in the Iquitos area, but I don't know whether he has the entire "conurbation" in mind or merely the city of Iquitos proper.  Anyway, I've now seen two of them.)  Our non-LDS tour manager, a young single woman accompanying us from Lima, also attended with us.
The chapel was smallish, very simple but neat and clean.  The floor was tile, with portable plastic chairs.  There were no hymnals, but that was fine:  Somewhat to my surprise, everybody around us seemed to be using cell phones to access the Church's hymnal.
The ward members were very friendly, coming up to welcome us, hug us, and so forth.  I was pleased to see that they weren't Americanized.  Most plainly spoke no English; some knew a few words.
There was some ward business.  And a young high councilman conducted a bit of stake business.
The first speaker was a missionary, Sister Peña.  I found out afterwards that she is from Peru.  The second speaker looked American, but her Spanish was so good that I began to have doubts.  Afterwards, though, I found out that she is from Idaho.  Unfortunately, I didn't get her name.  (I discovered that the area has its own mission.  The two sister missionaries are assigned to the Peru Iquitos Mission.)
The final speaker was the bishop, a young man.
Afterwards, almost all of the ward members who hadn't already greeted us came up to do so, including a young woman who is studying in the BYU Pathway Worldwide program and who was interested to know whether we would be willing to speak with her a bit in English online so that she can improve her language.  Of course we said Yes.
It's good to meet with the local members here.  In many ways, Peru has been a very fruitful field of labor for the Church of Jesus Christ of Latter-day Saints.  It seems to me, in Latin American terms, to rank with Mexico and with Brazil.  For example, the Lima Peru Temple was dedicated in 1986, the Trujillo Peru Temple was dedicated in 2015, and two additional temples are in the process of construction, in Arequipa and, once again, in Lima.  The latter will make for two temples within a single city – which is still something of a rarity, anywhere.
Posted from Ceiba Tops Lodge, on the Amazon River, Peru