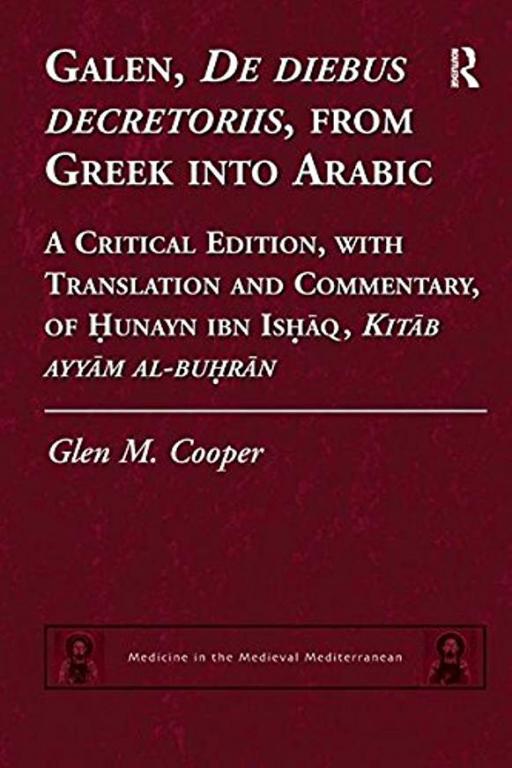 I received a note the other day from my friend, former student, and former colleague Glen M. Cooper.  He had just returned from Istanbul, where he was invited as a senior scholar to present a paper and to participate otherwise at an important three-day international conference there dedicated to the memory of a very distinguished Turkish scholar who recently passed away.  Dr. Cooper was well received at the conference, as he deserved to be, and he was widely recognized, sheerly on the basis of his published scholarship.  The mayor of Bergama (the ancient library and academic city of "Pergamon") even invited him to address this year's Bergama Festival as an expert on the great second-century AD physician Galen, who was a native of the city.
Dr. Cooper is among the most remarkable scholars ever produced within the Latter-day Saint community.  His mastery of Greek and Arabic and other relevant languages — he served a Chinese-speaking mission — combined with expertise in ancient physics and astronomy and medicine and Islamic history and classical studies, is world class.  His polyglot and multicultural erudition is rivaled by very few people on the planet:
"Professor Glen Cooper brings expertise in late antique Middle Eastern, European studies to CMC"
"Islamic Renaissance Man: An alum's study of ancient Islamic science has him questioning the "West is best" mentality."
Here's a description of the book whose cover appears above, which not only treats Galen but Hunayn ibn Ishaq, arguably the greatest of all medieval Arabic translators:
This volume presents the first edition of the Arabic translation, by Hunayn ibn Ishaq, of Galen's Critical Days (De diebus decretoriis), together with the first translation of the text into a modern language. The substantial introduction contextualizes the treatise within the Greek and Arabic traditions. Galen's Critical Days was a founding text of astrological medicine. In febrile illnesses, the critical days are the days on which an especially severe pattern of symptoms, a crisis, was likely to occur. The crisis was thought to expel the disease-producing substances from the body. If its precise timing were known, the physician could prepare the patient so that the crisis would be most beneficial. After identifying the critical days based on empirical data and showing how to use them in therapy, Galen explains the critical days via the moon's influence. In the historical introduction Glen Cooper discusses the translation of the Critical Days in Arabic, and adumbrates its possible significance in the intellectual debates and political rivalries among the 9th-century Baghdad elite. It is argued that Galen originally composed the Critical Days both to confound the Skeptics of his own day and to refute a purely mathematical, rationalist approach to science. These features made the text useful in the rivalries between Baghdad scholars. Al-Kindi (d.c. 866) famously propounded a mathematical approach to science akin to the latter. The scholar-bureaucrat responsible for funding this translation, Muhammad ibn Musa (d. 873), al-Kindi's nemesis, may have found the treatise useful in refuting that approach. The commentary and notes to the facing page translation address issues of translation, as well as important concepts.
As of today, though, Glen Cooper is an unaffiliated, independent scholar.   He finds himself lacking institutional support, with no decent space to work, no library access, no office, with most of his books in storage, and with several projects in progress.  He is very possibly better known in Europe and the Middle East than he is in his own neighborhood.
It is deeply sad — very deeply sad — that he lacks an academic appointment.  It is beyond ridiculous that this remarkably learned man, an active and believing Latter-day Saint who lives within just a few miles of Brigham Young University, has no status on the BYU campus.
Part of the problem, I suppose, is that his field of specialization — the history of Greco-Arabic science — falls between the stools created by the neat compartmentalization of contemporary academic organization.  What he does isn't quite physics.  It's certainly not astronomy or medicine.  And it's not diplomatic history or political history, let alone the history of what one of my friends calls "forts, camps, and trails."
So everybody thinks that he should be hired, that he belongs on campus somewhere, but no particular department wants to give up one of its own hard-won and badly needed faculty positions in order to hire him.
If I had the money or the power, though, Dr. Glen Cooper would occupy a professorial chair at Brigham Young University.  His work would bring international acclaim to the University and would reflect well, indirectly, on its sponsor, the Church of Jesus Christ of Latter-day Saints.  We Latter-day Saints have an image in many circles as earnest, nice, and rather empty-headed religious obscurantists.  Even beyond the considerable intrinsic merit of his scholarly work, Glen Cooper provides as good a counterexample to that image as anybody I know.