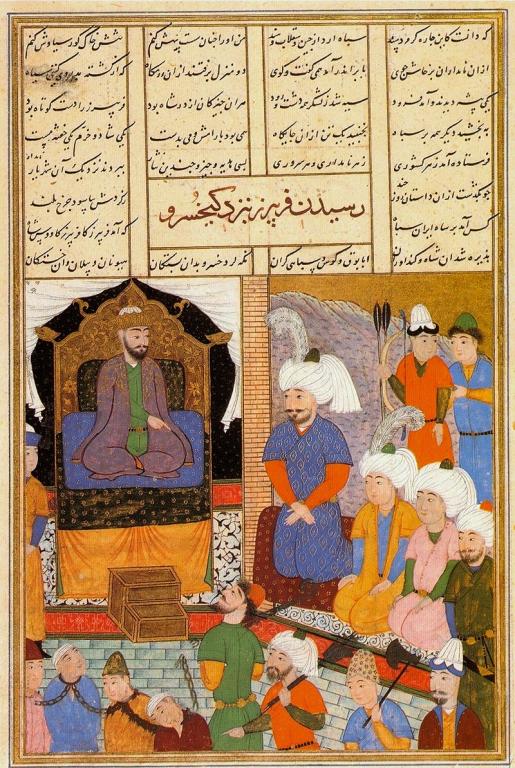 Since my request, made a few days ago, for suggestions of topics that I should cover during today's FreedomFest 2019 lecture in Las Vegas ("Building Zion: Mormon Pioneers and Religion in the American West") was so usefully productive, I thought that I might pose a more difficult, obscure, and demanding task for readers.  One good thing:  I'm not under so tight a deadline for this one.
I'm tinkering with a book manuscript for which the working title is Ten Muslim Classics.  (I may or may not expand it eventually to Twelve Muslim Classics.)  The books that I currently intend to introduce to readers are the following, with the specific editions or translations to which I'll be referring:
Al-Ghazali's Path to Sufism: His Deliverance from Error (al-Munqidh min al-Dalal), R.J. McCarthy (trans.)
ISBN-10: 1887752307 or ISBN-13: 978-1887752305
Attar, Conference of the Birds (Penguin Classics), Afkham Darbandi (trans.)
ISBN-10: 0140444343 or ISBN-13: 978-0140444346
Arabian Nights (New Deluxe Edition), Muhsin Mahdi (ed.), Hussain Hadawy (trans.)
ISBN-10: 0393331660 or ISBN-13: 978-0393331660
Spiritual Verses (Penguin Classics), Alan Williams (trans.)
ISBN-10: 0140447911 or ISBN-13: 978-0140447910
Ramsay Wood, Kalila and Dimna, Vol 1, Fables of Friendship and Betrayal from the Panchatantra, Jatakas, Bidpai, Kalila and Dimnah and Lights of Canopus
I'm using the Kindle edition: ISBN-10: 0863566618 or ISBN-13: 978-0863566615
Nizami, The Story of Layla and Majnun, Rudolf Gelpke (trans.)
ISBN-10: 0930872525 or ISBN-13: 978-0930872526
Ferdowsi, The Shahnameh:  The Persian Book of Kings, Dick Davis (trans.)
ISBN-10: 0143104934 or ISBN-13: 978-0143104933
Rubaiyat translated by Edward Fitzgerald – widely available in many editions.
al-Ghazali, The Incoherence of the Philosophers, 2nd Edition, Michael E. Marmura (trans.)
ISBN-10: 0842524665 or ISBN-13: 978-0842524667
Ibn Rushd (Averroës), Decisive Treatise and Epistle Dedicatory, Charles E. Butterworth (trans.)
ISBN-10: 9780842524797 or ISBN-13: 978-0842524797
There is no particular theory or rationale here.  Of making lists of "best books" or "classics" there is no end, and I could have chosen any number of others.  But life and time and energy are finite, and these happen to be books that I've taught from time to time and of which I'm quite fond — and about which I might have something at least slightly useful to say.
My hope with the book that I plan is not merely to call attention to some texts that I like and that I wish were better known in the West, but also to remind people in the West — and perhaps even some Muslims themselves — that the Islamic tradition has created a great deal more, and has much more to offer, than violent extremism and suicide bombers.
The problem is that Ten Muslim Classics isn't a particularly catchy or attractive or memorable title.  I think that it would make a serviceable subtitle, but, thus far, I haven't come up with a title that pleases me.  As I dozed off last night, I was thinking of things like Fables, Philosophers, and Poets: Ten Muslim Classics and The Scent of Paradise: Ten Muslim Classics.  But nothing really took.
Posted from Las Vegas, Nevada