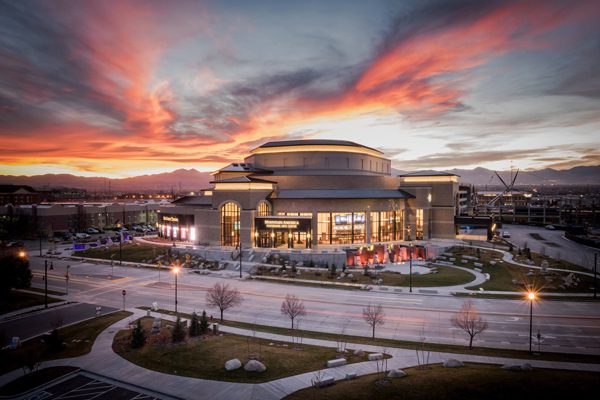 We're just back from the Hale Centre Theatre in Sandy. We went out to dinner with a group of neighbors and then on to the play, which was Seussical. (Despite my continual anger, bitterness, cruelty, and misery, I've managed to hold on to a few friends. It's probably my wife's doing.)
I read lots and lots of Dr. Seuss when I was small but, somehow, I had never seen Seussical before tonight.
I'll be honest: There were stretches in the first half where I feared that I had entered Cats territory again. But it got better, and the second half was reasonably good. The production made excellent use of the technical capacities of the main stage, which (among other things) made some impressive acrobatics possible.
The real highlight of the play, for me, was Ryan Simmons as The Cat in the Hat, who is the virtually omnipresent impresario of the show. He was astonishing. His ad libbing interactions with the audience were hilarious, and his changes in voice were real crowd pleasers. Much of the Hale Centre Theatre's production of Seussical is double cast, but I'm happy to say that Ryan Simmons plays The Cat in the Hat every time.
The recurring line — the theme, I think it can be said — of Seussical is this: "A person's a person, no matter how small."
It's an authentically Seussian line, of course, and it's apparently been somewhat controversial. Why? Because pro-life activists pressed it into service as an anti-abortion slogan. (It works rather well in that context, doesn't it?) Apparently the author and his wife didn't much care for his work being used in a political way — although they were both fairly left-leaning and although, after his death, she made a significant contribution to Planned Parenthood.
***
The line that I really liked from Frozen II, which we saw in Richmond, was
Do the next right thing.
That seems to me a really good candidate for someone's life motto. (Not mine, of course. Mine is "Do the next angry, bitter, cruel, and miserable thing." Or something like that.) I like it better, frankly, than "A person's a person, no matter how small."
"Do the next right thing" even provides a theme song for the film.