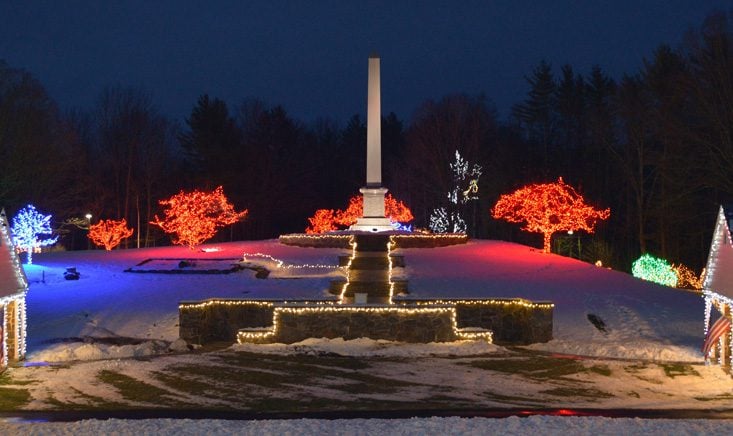 Today marks the 214th anniversary of the birth of Joseph Smith.  I think that fact worth noting.
Joseph isn't the Messiah.  He isn't on a par with Jesus, let alone superior.  He went into the grove for guidance from the Lord, not to counsel God.  He received revelation from God, not the other way around.  He was subordinate.  Depictions of his First Vision correctly show him kneeling, awestruck, at the feet of the Father and the Son.  His importance is secondary.  Derivative.  He is a moon, reflecting the light of the Son.  His significance derives from the Lord who called him, from the Savior of whom he testified and whose birth we remember at the Christmas season.  But that is no small thing.
Saturday, 21 December 2019—two days ago, as I write—was the winter solstice in Earth's northern hemisphere.  The winter solstice occurs when one of Earth's poles has its maximum tilt away from the Sun.  (Accordingly, it happens twice annually, once in the northern hemisphere and once in the southern.)  It is the day when the Sun is at its lowest average daily elevation in the sky, and the day with the year's shortest period of daylight and the year's longest night.  After the winter solstice, the periods of nighttime darkness become shorter and shorter, the sun rises higher in the sky, and days grow longer.  There is, in short, more light.
In the northern hemisphere, the winter solstice usually occurs on 21 December or 22 December.  This year, in 2019, it fell on the former.  In 1805, however, the year of Joseph Smith's birth, the winter solstice fell on 22 December.  The Prophet was born the very next day.
I can't say that there was divine intention in this.  I don't want to read more into it than there was.  But it certainly seems symbolically appropriate, at the least, that the Prophet of the Restoration was born on the day in the astronomical year when darkness began to disperse and light began once more to grow.  Since that time, "We have . . . a more sure word of prophecy; whereunto ye do well that ye take heed, as unto a light that shineth in a dark place, until the day dawn, and the day star arise in your hearts" (2 Peter 1:19).
The morning breaks, the shadows flee;
Lo, Zion's standard is unfurled!
The dawning of a brighter day
Majestic rises on the world.
The clouds of error disappear
Before the rays of truth divine;
The glory bursting from afar
Wide o'er the nations soon will shine. . . .
Angels from heav'n and truth from earth
Have met, and both have record borne;
Thus Zion's light is bursting forth
To bring her ransomed children home.
Posted from Richmond, Virginia