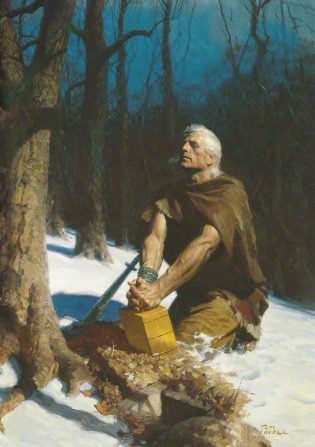 On Tuesday (21 January 2020), I posted a blog entry entitled "Moving with Royal Skousen toward a fictional Book of Mormon?"  The following day, I received a response from Dr. Skousen that read, in relevant part, as follows.  I post it here with his permission:
Your write-up does represent my view. The Book of Mormon is an account of real people and real events, but its translation is not a literal one. And its discourses may also be creative, such as the Sermon on the Mount as a conglomerate of various statements Jesus made at different times, as they are found in Luke, for instance. (I discuss this issue in my newest book). A similar example, for instance, is found in the New Testament which says that Jesus "sat at meat" (a  cultural, creative translation of the Greek 'to recline (at meal)'. Jesus indeed ate the last supper with his disciples, but not as Leonardo di Vinci portrayed it, sitting around a table (or on only one side of a long table). But I believe the last supper nonetheless occurred even though the King James translators typically translated it this way, culturally and creatively, as "sitting at meal". The King James translators were definitely not moving towards creating a fictional collection of the gospels. A good example of a "cultural, creative translation" in the Book of Mormon, I believe, is the reference to "the bar of God"; legal bars date from Medieval times, yet interestingly the term is used in the Book of Mormon to refer only to our future day of judgment, not to synchronic events in the Book of Mormon itself (which would make its use there anachronistic).
By the way, what I heard in my mind was "This really happened!" (in the singular, not the plural). Ah, another creative translation, which I fully accept as the same as what you stated.
***
Also relevant is this item from the invaluable Neville-Neville Land blog, which monitors the claims of Mr. Jonathan Neville, a vocal opponent of everybody who fails to bow the knee to his views on the geography of the Book of Mormon:
"Jonathan Neville vs. Royal Skousen"
***
In other news:
"Groundbreaking Dates Announced for Temples in Virginia, the Philippines and Utah"
"At Martin Luther King Jr. Memorial Event, Apostle Encourages Christlike Love for All: "We are all part of the same divine family. Our well-being is tied to our neighbor's well-being," says Elder Stevenson"