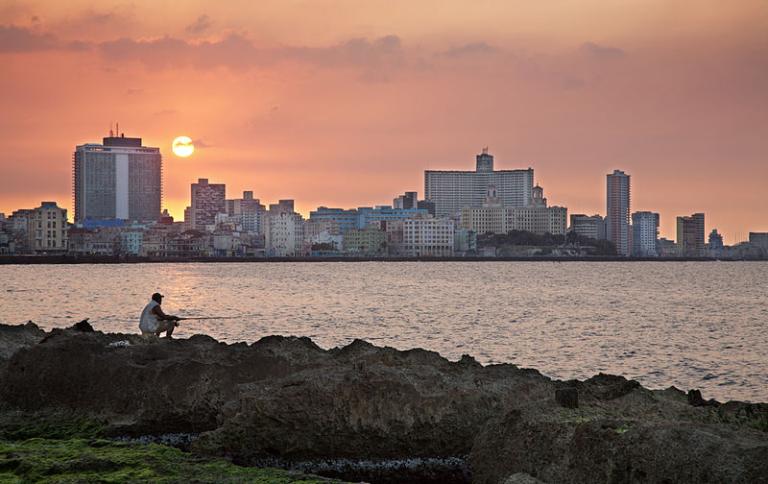 It is often said of the socialist paradise known as Communist Cuba that, although, sure, yeah, it has sentenced its people to perpetual poverty and taken away their freedom, it has also vastly improved the health of its children and infants. Here, for example, from his previous bid for the presidency, is Senator Bernie Sanders (I-VT):
"Sanders on Cuba: "Of Course Their Economy Is Terrible," But They Have Health Care And Education"
Senator Sanders could potentially win in Iowa and New Hampshire, whose caucuses and primary are, respectively, just around the corner. And if he gains those early victories, he could conceivably go on to take the Democratic presidential nomination:
"'Oh my God, Sanders can win': Democrats grapple with Bernie surge in Iowa: Four years ago, the Vermont senator caught the Democratic establishment sleeping in Iowa. Could he do it again?"
Contemplating a presidential-election choice between Bernie Sanders and Donald Trump, I can scarcely contain my enthusiasm. These would definitely be the very best two candidates that the population of the United States of America can provide!
You may perhaps recall the famous Southern Baptist pastor Robert Jeffress, who vocally opposed Mitt Romney as a non-Christian but who has long veered between bromance and idolatry with regard to St. Donald Trump:
"First Baptist Dallas Passes Out 'What Would Trump Do?' Bracelets During Service"
"Donald Trump Is The Babylon Bee's Christian Of The Year 2019"
But perhaps it's time to fact-check the notion — one that I hear from leftists with considerable frequency — that the government health care afforded to children in Cuba is something to be envied and emulated in the capitalistic United States:
"Why Cuba's Infant Mortality Rate Is so Low"
***
Okay. So infants and children wouldn't necessarily flourish by being born in progressive socialist Cuba rather than in the free-market United States. They wouldn't necessarily thrive under a state-run health care system modeled on that of La Revolución.
So what might be good for kids? Here are a couple of suggestions. Dare I point out that neither would be surprising to committed, thinking Latter-day Saint parents?
"Don't Believe in God? Lie to Your Children: The alternative is to tell them they're simply going to die and turn to dust."