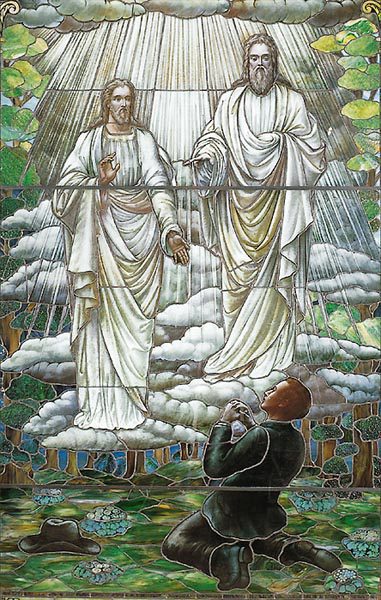 Most of you will recall this brief announcement from the end of last year's October general conference of the Church of Jesus Christ of Latter-day Saints:
"President Nelson Announces Plans for Special Celebration of First Vision"
I'm excited for what will be coming. All of us at the Interpreter Foundation are looking forward to this next year.
***
This morning, the Interpreter Foundation launches a new series of blog entries, kindly contributed by Dennis B. Horne, devoted to the grand opening revelation of the Dispensation of the Fullness of Times. We hope that you will find them of value as, this year, we mark the bicentennial of the commencement of the Restoration:
"Teachings and Testimony of the First Vision: Introduction and Faithful Women Testify of the Prophet Joseph Smith's First Vision"
***
In my immediately previous blog entry ("Entering the Bicentennial Year"), I mentioned two researchers who came independently to the conclusion that Joseph Smith's First Vision occurred on the morning of Sunday, 26 March 1820. For further information on that theory, you might want to take a look at this independently produced film, which runs just slightly less than 35 minutes in length:
***
As I write, I'm listening to New Year's Eve 1996 performance of the Vienna Philharmonic, under the baton of Lorin Maazel, performing the Emperor Waltz (the Kaiser-Walzer) of Johann Strauss II. (Isn't it amazing that I can listen to a 1996 performance by the Vienna Philharmonic while sitting in Orem, Utah, in 2020? We take such things for granted, I think. But our still-relatively-recent ancestors would have thought it miraculous.) It occurs to me that it would be very, very difficult to feel morose or negative while listening to the Emperor Waltz or, for that matter, to any Strauss waltz.
***
In that mood, and in the afterglow of thinking about the First Vision yet again, I share a recent link from the Church newsroom that some will want to include, yet again, in their Christopher Hitchens Memorial "How Religion Poisons Everything File:
"Latter-day Saints Around the World: Country Newsroom Websites, December 30, 2019"
***
Nevertheless and unfortunately, some rather negative bits of housekeeping do occasionally need to be carried out. Replying to the aggressive blogging of Mr. Jonathan Neville is one of those obligations, and so I'm very happy that the Neville-Neville Land blog has undertaken the necessary task. Here are four recent entries from that Neville-Neville Land blog:
"Jonathan Neville's broken scriptural allegory"
"Disagree with Neville? You're a "disloyal" teacher of "poisonous thoughts""
"January 2020 is a bad month to be Jonathan Neville"
"Examining the Heartlander brain"