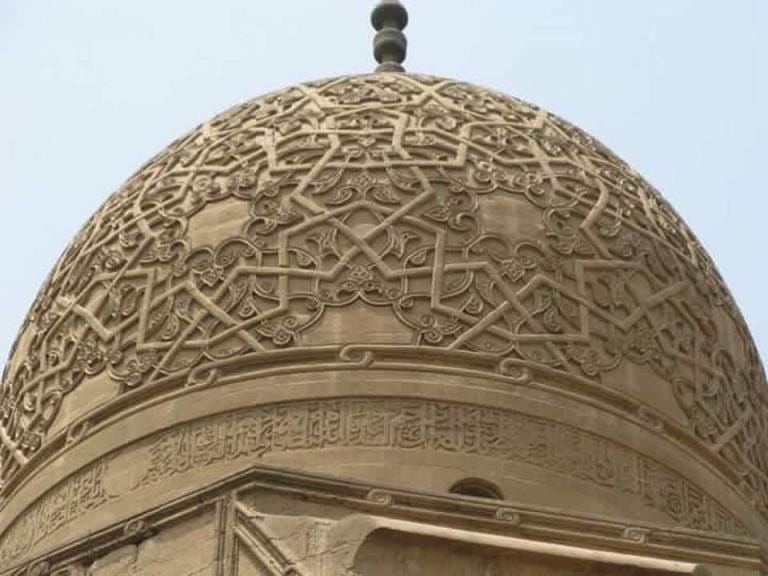 The announcement of a new temple to be built in the United Arab Emirates is still reverberating magnificently among the small community of Latter-day Saint Arabists and Islamicists.  We were, to put it mildly, both stunned and exuberant.
With his kind permission, I reproduce here a Facebook entry recently posted by my friend and fellow Latter-day Saint Jamal Qureshi:
One of my favorite examples of Islamic architecture and design anywhere in the world. The dome of the mausoleum of the Mamluk Sultan Qaitbay (ruled Egypt 1468-1496). The mausoleum is located in Cairo's City of the Dead, a cemetery complex that due to the city's overcrowding now houses hundreds of thousands of people. The stones of the dome were hand carved on the ground by skilled artisans and then lifted into place. Note how despite the curvature of the dome and the extreme viewing angle, the geometric, floral, and light text designs stay coherent and not visually warped even as they recede. The masons had to be able to visualize how the entire pattern would look high above them as they carved individual pieces working on the ground. The design is pure perfection: mathematically, artistically and aesthetically.
These are the kinds of gems the architects and interior designers for the new Dubai LDS Temple need to study and visit. They should spend months in Cairo, Fez, Andalucia, Isfahan, and Istanbul at minimum. Studying buildings closely and meeting with architects, craftsmen, and art historians as they tour mosques, churches, mausoleums, synagogues and monuments. There is no region of the world with richer design and architectural traditions than the Middle East. Personally, I think Cairo is the most important city of them all to visit, with architectural wonders that span the centuries in a way that no other single city in the region does. But every regional country has jewels to study. Middle Eastern architecture and design is rich with tools that can meld wonderfully with LDS theological concepts in geometry, Arabic text, and iconography expressed in stone, wood, and inlay. Architecture designed to lift the worshipper into a sublime sense of communing with the divine is one of the richest millennia-old traditions of the Middle East. That heritage is one I hope the architects and interior designers will embrace wholeheartedly since this temple is not so much a new frontier as it is a historical homecoming.
***
I couldn't possibly agree more fervently.
I have long believed that, because of its aniconic quality and its emphasis on abstraction and geometry and motifs (e.g., arabesque) related to the gardens of paradise, Islamic art and especially Islamic architecture lend themselves especially well to modern design and, particularly, to Latter-day Saint religious building.  (It's considerably more difficult to imagine updating Christian baroque and rococo architecture!)
I expect that the new temple to be built in the United Arab Emirates will be a relatively modest one.  Still, it could be a gem that would send a message of respect to the Islamic world as a whole.  I devoutly hope that the designers of the temple will pay some attention to the rich design tradition across the Middle East and throughout Muslim lands.  President Nelson certainly suggested that such might be the case:  "In all eight locations," he said in his announcement of the new temples, "Church architects will work with local officials so that the temple will harmonize with and be a beautiful addition to each community."
When I was much younger, I dreamed of being an architect.  The only thing that really prevented me, though it plainly hasn't deterred certain others, was an utter lack of any and all relevant talent.  But this new temple fires my imagination.
There are wonderful buildings to be examined for precedents and ideas across the world of Islam.  And, if I might make one specific suggestion, I would hope that somebody at Church headquarters might involve Dr. Lisa DeLong, a Latter-day Saint graduate of Brigham Young University who is now a member of the faculty of The Prince's Foundation School of Traditional Arts in London, in brainstorming for the design of this new, groundbreaking temple.  She is an expert on, and a marvelous practitioner of, "sacred geometry," with very good knowledge of Islamic art and a conviction of what temple-associated art should look like.
This is a marvelous opportunity!