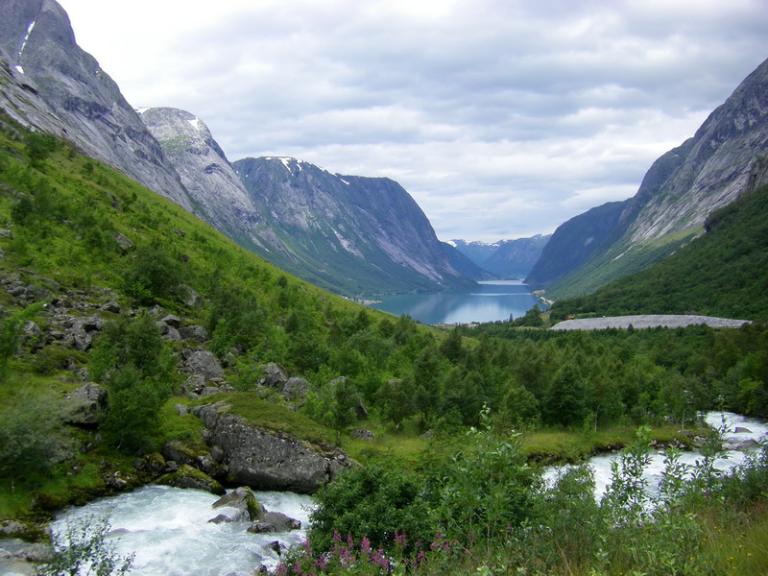 My paternal grandfather, who died several years before I was born, came over from Denmark as an infant. My paternal grandmother arrived in the United States from Norway when she was roughly twenty. Perhaps that's the reason that, growing up, I was always more aware of my Norwegian ancestry than of my Danish ancestry. (I think that my father felt more Norwegian than Danish, as well.)
On this American Father's Day, I'm of course thinking of my Dad. Oddly, I'm thinking specifically of a quartet of Norwegian foods — two of which he loved, and one of which I love as well.
Once in a while, when I was living at home, my mother would make lefse for my Dad. She didn't especially enjoy making it — and neither does my wife — because it's quite labor-intensive and very messy. I've seen it described as a kind of Norwegian flatbread, a thicker version of a crêpe, or a thinner rendition of a (potato) pancake. I've sometimes thought of it as a Norwegian potato tortilla.
Which raises the sensitive question of potatoes.
Growing up, lefse was potato lefse. There was no other kind. When I first visited Norway in 1982, though, I was shocked that there was no potato lefse to be found. Everywhere we went, the lefse on offer was flour lefse, multilayered with sweet or occasionally savory substances between the layers like sandwiches and neatly cut into rectangles, not potato lefse, round like a pancake, tortilla, or crêpe, and rolled up into a tube. When we went, not too long thereafter, to Epcot in Orlando, they served flour lefse at the Norway Pavilion, too.
I began to wonder whether my dimly remembered grandmother Synneve, who died when I was five, was some sort of renegade outlier or, at the best, an exponent of some weird and anomalous regional cuisine.
Since then, though, I've learned that potato lefse is indeed entirely legitimate. And it's wonderful.
Klub or klubb, however, not so much. It's a Norwegian potato dumpling, and plainly a comfort food. My father used to sing its praises, remembering how wonderful it was to eat hot klub upon returning from school in a -50F degree North Dakota winter. I suppose that I can understand that. But it was never especially appealing to me as a southern California boy, returning from school on a warm winter day among the palm trees. I used to joke with my Dad that the only thing that klub lacked was flavor.
Once, we were sitting in a restaurant in Bergen, Norway, and my father suddenly asked whether they had any gjetost. It's a brown Norwegian goat cheese. The waiter said that she would ask. Soon, she returned with a small plate of the cheese, holding her nose. It's actually not bad, and not all that stinky. I wouldn't write home about it, though.
And then there's lutefisk, dried and salted cod (or some other whitefish), pickled in lye. Not even my father liked that one. Two of my sons used to dream of launching an annual Utah Valley Lutefisk Festival. In jest, of course. (Or was it in jest?) They got a kick out of the apparent fact that, if lutefisk isn't properly cured, it's lethal. (I consider it lethal no matter how it's cured.) My Dad once shared a newspaper article with me — from the Wall Street Journal, I think — written by a reporter of Norwegian descent who told about the first family reunion at which he had been invited to sit at the grown-up table. At one point, the traditional celebratory plate of lutefisk was being passed around, and he was dreading it. Unfortunately, he was seated next to one of his uncles, and that uncle was the most insistent of all that it was time for the lutefisk! As the plate came closer, the reporter was more and more desperate. Could he endure this with any grace or dignity? When it came to him, he took as small a piece of it as he dared, gulped it down, passed the plate on to his uncle, grabbed his drink, and, miraculously, survived. When his uncle had had his piece, he leaned over to the nephew and whispered, "Well, I'm glad that's over for another year!"
Heritage!